Kami Watch Over Me Series - Table of Contents
| Entry | Notable Places/Events | Start of Day | End of Day |
| --- | --- | --- | --- |
| Day 0 – Thursday, Oct 20 2022 to Friday, Oct 21 2022 | Flight from Edmonton to Tokyo | Edmonton | Tokyo |
| Day 1 – Saturday, Oct 22 2022 | Saitama, Ikebukuro | Tokyo | Tokyo |
| Day 2 – Sunday, Oct 23 2022 | Autumn Reitaisai 9, Shinjuku | Tokyo | Tokyo |
| Day 3 – Monday, Oct 24 2022 | Akihabara | Tokyo | Tokyo |
| Day 4 – Tuesday, Oct 25 2022 | Hakone | Tokyo | Hakone |
| Day 5 – Wednesday, Oct 26 2022 | Kamakura, Enoshima Shrine | Hakone | Kamakura |
| Day 6 – Thursday, Oct 27 2022 | Hanno | Kamakura | Hanno |
| Day 7 – Friday, Oct 28 2022 | Shinkoiwa | Hanno | Tokyo |
| Day 8 – Saturday, Oct 29 2022 | Akihabara, Matsudo City | Tokyo | Tokyo |
| Day 9 – Sunday, Oct 30 2022 | M3-50, Moto-Yawata | Tokyo | Tokyo |
| Day 10 – Monday, Oct 31 2022 | Akasaka, Shimo-Kitazawa, Shibuya Halloween | Tokyo | Tokyo |
| Day 11 – Tuesday, Nov 01 2022 | Shinjuku, Sophia University | Tokyo | Tokyo |
| Day 12 – Wednesday, Nov 02 2022 | Sophia University, Kabukicho | Tokyo | Tokyo |
| Day 13 – Thursday, Nov 03 2022 | Shinjuku Loft | Tokyo | Tokyo |
| Day 14 – Friday, Nov 04 2022 | Shinjuku, Hanazono/Asakusa Tori no Ichi, Sensoji | Tokyo | Tokyo |
| Day 15 – Saturday, Nov 05 2022 | Nagano, Zenkoji | Tokyo | Nagano |
| Day 16 – Sunday, Nov 06 2022 | Ueda Sanada Festival, Ueda City, Sanada Shrine | Nagano | Nagano |
| Day 17 – Monday, Nov 07 2022 | Zenkoji, Kyoto, Nakagyo Ward | Nagano | Kyoto |
| Day 18 – Tuesday, Nov 08 2022 | Otsu, Omi Jingu | Kyoto | Kyoto |
| Day 19 – Wednesday, Nov 09 2022 | Fushimi Inari, Kashoji, Tofukuji, Shorinji | Kyoto | Kyoto |
| Day 20 – Thursday, Nov 10 2022 | Ohara, Sanzenin, Arashiyama | Kyoto | Kyoto |
| Day 21 – Friday, Nov 11 2022 | Kiyomizu, Ryozen Kannon, Yasaka Shrine | Kyoto | Kyoto |
| Day 22 – Saturday, Nov 12 2022 | Heian Raku Ichi Market, Osaka, Juso | Kyoto | Osaka |
| Day 23 – Sunday, Nov 13 2022 | Sukunahikona Shrine, Namba | Osaka | Osaka |
| Day 24 – Monday, Nov 14 2022 | Kobe (with Ran) | Osaka | Osaka |
| Day 25 – Tuesday, Nov 15 2022 | Maibara, Toyosato, Nagoya | Osaka | Nagoya |
| Day 26 – Wednesday, Nov 16 2022 | Osu, Banshoji, Naka | Nagoya | Nagoya |
| Day 27 – Thursday, Nov 17 2022 | Obara Shikizakura Festival, Rurikozanyakushi | Nagoya | Nagoya |
| Day 28 – Friday, Nov 18 2022 | Okayama, Kurashiki | Nagoya | Kurashiki |
| Day 29 – Saturday, Nov 19 2022 | Kyoto (with Xuanjie), Autumn Okayama Momotaro Festival | Kurashiki | Kurashiki |
| Day 30 – Sunday, Nov 20 2022 | Okayama, Sunrise Izumo | Kurashiki | Sunrise Izumo |
| Day 31 – Monday, Nov 21 2022 | Minowa, Enoshima Shrine, Ameyoko Market | Sunrise Izumo | Tokyo |
| Day 32 – Tuesday, Nov 22 2022 | Shibuya, Taito City | Tokyo | Tokyo |
| Day 33 – Wednesday, Nov 23 2022 | Akihabara | Tokyo | Tokyo |
| Day 34 – Thursday, Nov 24 2022 | Shinjuku (with Yaoxiang), Harajuku | Tokyo | Tokyo |
| Day 35 – Friday, Nov 25 2022 | Sensoji, Narita Airport, Flight from Tokyo to Edmonton | Tokyo | Edmonton |
| Final Thoughts | Final Thoughts | | |
Saturday, Nov 12 2022 (Day 22)
Final Morning in Kyoto
This is Akira.
Super nice Airbnb host. This was the last morning I spent with him, and on the way back from buying breakfast again, he stopped by the Shogun Park viewpoint (aka my Higashiyama Unstained Court) again so that I could "say goodbye to Kyoto".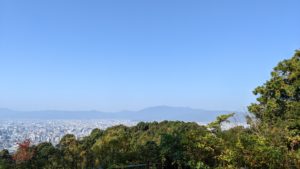 He also took a picture of me, and I am not used to seeing my adaptive lens glasses that get dark in sunlight, since it isn't dark for me looking out at the world through them. Both the old and new omamori amulets from Yasaka Shrine are visible hanging off my bag, too.
Breakfast this morning was another bento box and bun,  the bento box visible here
And the buns here:
The first picture had a picture of Akira's breakfast bun (with fish and onions) instead of mine, but he swapped it back before any harm was done to either of the buns. He insisted I get another bun to eat while walking around the market later, so I picked up that bear bun in the bottom left plastic bag. As Kynji requested in Discord, I bit off its nose before eating the rest of it later on. Poor thing.
Here's a picture of some snacks, as an example of the things that Akira tried to give me through the entire stay there:
Nuts, crackers, cookies, he tried them all, leaving them enticingly on the kitchen table after making me try a couple of them, but I'm not really a snack person and I don't like to impose anyway so I never helped myself to them. I did consume several cups of his tea though, since he always insisted I drank something with breakfast or (when we brought bento boxes home) dinner. To partially get around this, when he offered me a drink during Day 20's breakfast, I picked up a 5-pack of Yakult and had that for Day 20's breakfast and dinner, Day 21's breakfast and dinner, and this last day's breakfast too.
I did like the tea though, and I was also amused that he used chopsticks to stuff the tea bag inside the cup and stir it around and then again to remove it afterwards. For whatever reason I've never thought of using chopsticks when making tea. I suspect it goes against the elegance and principles of things like the Japanese tea ceremony.
This stay was definitely an interesting and neat experience. Despite running on someone else's clock, which took away some of my freedom to explore and wander, it also gave me other experiences and chances I'd never have had. So it wasn't necessarily better or worse in the end, but different, an interlude of sorts to the trip. I definitely fell behind in blog-writing on this leg of the trip and I'm not sure I'll be able to catch up before I get home though, since I'm not going to compromise on what I want to write for each day in order to get it out faster, but at this point I only have two more weeks left anyway, and being three days behind or so isn't the worst thing.
After breakfast, he took me to the Heian Raku Ichi Market again, in Okazaki Park, next to the Heian Shrine there. I was going to tell him to just drop me off, baggage and all, and I'd make my own way to the train station afterwards, but he said that he was going to do some shopping nearby and would meet me here in his car in an hour and drive me back to Kyoto Station, and I could then take a shinkansen from there to Osaka.
I didn't take many pictures nor buy anything from here, but I did spend the hour walking around and browsing all the stalls. There were only about maybe half a dozen stalls selling food or drink out of the 200 or so here, since this was mostly a handicrafts market, with clothes, figurines, postcards, furniture, bags, toys, and more all on sale. I almost bought a water bottle bag to act as a new carry bag for Tigey but the bag I was eyeing was a little too small and the stall owner didn't have a larger version of that particular pattern (but had larger versions of other ones). Oh well.
I also stopped by the Heian Shrine briefly,
But their goshuin were pasted on ones and I was low on time by this point anyway so I neither wandered into the shrine proper nor bought one of them. I hopped back into Akira's car one last time, he took me to our usual pick-up spot near JR Kyoto Station, and we said our goodbyes there.
Trip to Osaka
I had originally reserved a 10:30 am or so ticket for the Kyoto to Osaka leg of my trip when I first arrived in Kyoto. This was long torpedoed however, since it was past noon by the time we reached JR Kyoto Station. So I had to go to the JR ticket office to get it cancelled again. Kyoto Station didn't seem to have a separate ticket office for tourists/those with JR Passes, this might only be a JR East thing and Kyoto was in JR West, but I'm not certain of that. I joined the general queue though and actually managed to complete this entire cancellation transaction in Japanese, which I was happy about.
I then went back to the green ticket machines outside and booked my new ticket to Osaka. I picked the Super Hakuto 7, partly because of the name and partly because that would give me a bit of time to pick up a bento box before the train arrived. This did mean that I didn't end up taking a shinkansen to or from Kyoto, since I arrived on a limited express train (the Thunderbird) and left on one as well. They're not that much different though, just a tad slower, which meant more time to eat and stuff. Well, that and this Super Hakuto train didn't actually have power sockets like the shinkansen mostly seemed to have.
The bento box I picked for the rather short trip was called the Aki no Irodori Bento,
It looked fancy, but was actually pretty terrible compared to most of the other bentos, ekiben or otherwise, I'd had up till this point. I finished about half of it waiting for the train, and the other half once I got onto the train.
Osaka Station
Arriving at Osaka Station without a guide, I briefly felt like a fish floundering out of water again. Nostalgic feeling from last week. There were lots of people everywhere, and to get to the local train network from the shinkansen I had to walk out of the station and past a couple of really large shopping malls to get there.
There was a literal queue for some of the escalators that I passed by. One thing that immediately struck me was that everyone in Osaka was standing right and passing left on escalators. In Tokyo, Nagano, and even Kyoto, my experience was that people stood left and passed right. But in Osaka, and later Kobe, people stood right and passed left, just like we do back home in Edmonton. It was interesting, especially since Kyoto and Osaka are neighbours bumping up against each other land-wise.
My apartment was located in Juso, which was just one stop away from Kyoto Station, along the Hankyu lines — there were three different variations of the Hankyu Line going from Osaka Station to Juso Station, the Hankyu Kobe, Hankyu Kyoto, and Hankyu Takarazuka, and they all had different platforms next to each other. I eventually picked the Takarazuka one because there was a train coming in two minutes for it, not too soon and not too long. It was packed, but I suspect all of them were.
Juso Shopping Street
The Juso Station area was very nice, there were several shopping streets that kind of merged into each other — the Juso Friendly Street, Tommy Town, and Sakaemachi, and more.
I was still an hour early for check-in, so I dumped my bags down at the apartment (I had acquired approval for this), and then walked around this area both before and after checking in. A combined gallery of selected pictures follows.
I also at some point picked up a packet of Hokkaido Skimmed Milk Powder to try since every hotel or apartment room I had been in had a hot water flask. I figured I could drink this instead of water.
By the time I had finished my wandering, it was quite late in the day. Since my rental apartment had a kitchenette, I had this idea that I wanted to try some groceries and self-cooking instead of always eating out. In particular, the easiest and most varied dish to make would be my patented Mystery Soup, basically a mixture of any ingredients I could find thrown into a stew. So I went to a nearby supermarket called Pure 13, and did some shopping, picking up a small packet of what seemed to be barley rice, and an assortment of meat and vegetables.
Nothing too odd, because I needed to test to see if I could even get a stew going. From left to right, bottom to top:
ට Carrot/Lotus Root/Taro? simmered in water (Tsuda Chikuzenni) (198 yen)
ට Wild Vegetable Mix (Tsuda Sansai Mix) (100 yen)
ට Rice-shaped Barley (Hakubaku Kometsubumugi) (368 yen)
ට Edamane (Puritto Edamame) (half off – 89 yen)
ට Yudofu/Hot Tofu (Kyoto Tanpaku Yudofu) (108 yen)
ට Chinese Rice Bowl Sauce (Maruha Nichiro Kin no Donburi Chuukadon) (128 yen)
ට Tanba Shimeji Mushrooms (138 yen)
ට Chicken Breast (Tori Mune Niku) (189 yen)
ට Minced Chicken Fillet (Niwatori Sasami Sujihiki) (161 yen)
ට Clam Miso Soup Packets (Hanamaruki Shijimi Miso Shiru) (118 yen)
Something like that. It came to 1724 yen but not everything was for tonight, the two chicken meat packets, mushrooms, and tofu all got split over two days, the miso soup was for backup in case the soup was tasteless and is being carried along, the chuukadon was for the next day's breakfast, and the rice lasted for four meals (dinner x2, breakfast x2).
It turned out fairly well, all things considering. This was about 1/4 of the stew and 1/2 of the rice.
I also took several pictures of the rental apartment, which I will attach here. It's so big! This was definitely meant for a family, but I just got it for cheap (well, under 10,000 yen a night) on a last-minute deal.
Shinkansen Running Total
I have a 21-day JR Pass that kicked in on Nov 05 and should last until the end of my trip on Nov 25. It cost $568 CAD, which cost around 61,769.08 yen, as per Google as of the first writing of this section. So I was curious and wanted to keep a running total — was this thing actually worth it?
That's what I hope to find out with this section. For the full explanation blurb on this, check this corresponding section of the Day 15 blog post.
Trips
ට  Nov 05 2022 – Asama 611 (Tokyo to Nagano) – U: 7810, R: 8340
ට  Nov 06 2022 – Hakutaka 556 (Nagano to Ueda) – U: 1470, R: 2790
ට  Nov 06 2022 – Asama 615 (Ueda to Nagano) – U: 1470, R: 2790
ට  Nov 07 2022 – Kagayaki 509 (Nagano to Kanazawa) – 8920 (reserved seats only)
ට  Nov 07 2022 – Thunderbird 24 (Kanazawa to Kyoto) – U: 6490, R: 6820
ට  Nov 08 2022 – JR Kosei Line (Kyoto to Otsukyo) – 240 (unreserved seats only)
ට  Nov 08 2022 – JR Kosei Line (Otsukyo to Kyoto) – 240 (unreserved seats only)
ට  Nov 08 2022 – JR Nara Line (Kyoto to Inari) – 150 (unreserved seats only)
ට  Nov 08 2022 – JR Nara Line (Inari to Kyoto) – 150 (unreserved seats only)
ට  Nov 09 2022 – JR Nara Line (Tofukuji to Kyoto) – 150 (unreserved seats only)
ට  Nov 10 2022 – JR Sanin/Sagano Line (Saga-Arashiyama to Kyoto) – 240 (unreserved seats only)
ට  Nov 12 2022 – Super Hakuto 7 (Kyoto to Osaka) – U: 1230, R: 1760
Running Total
Unreserved: 28,560 yen
Reserved: 32,590 yen