Kami Watch Over Me Series - Table of Contents
| Entry | Notable Places/Events | Start of Day | End of Day |
| --- | --- | --- | --- |
| Day 0 – Thursday, Oct 20 2022 to Friday, Oct 21 2022 | Flight from Edmonton to Tokyo | Edmonton | Tokyo |
| Day 1 – Saturday, Oct 22 2022 | Saitama, Ikebukuro | Tokyo | Tokyo |
| Day 2 – Sunday, Oct 23 2022 | Autumn Reitaisai 9, Shinjuku | Tokyo | Tokyo |
| Day 3 – Monday, Oct 24 2022 | Akihabara | Tokyo | Tokyo |
| Day 4 – Tuesday, Oct 25 2022 | Hakone | Tokyo | Hakone |
| Day 5 – Wednesday, Oct 26 2022 | Kamakura, Enoshima Shrine | Hakone | Kamakura |
| Day 6 – Thursday, Oct 27 2022 | Hanno | Kamakura | Hanno |
| Day 7 – Friday, Oct 28 2022 | Shinkoiwa | Hanno | Tokyo |
| Day 8 – Saturday, Oct 29 2022 | Akihabara, Matsudo City | Tokyo | Tokyo |
| Day 9 – Sunday, Oct 30 2022 | M3-50, Moto-Yawata | Tokyo | Tokyo |
| Day 10 – Monday, Oct 31 2022 | Akasaka, Shimo-Kitazawa, Shibuya Halloween | Tokyo | Tokyo |
| Day 11 – Tuesday, Nov 01 2022 | Shinjuku, Sophia University | Tokyo | Tokyo |
| Day 12 – Wednesday, Nov 02 2022 | Sophia University, Kabukicho | Tokyo | Tokyo |
| Day 13 – Thursday, Nov 03 2022 | Shinjuku Loft | Tokyo | Tokyo |
| Day 14 – Friday, Nov 04 2022 | Shinjuku, Hanazono/Asakusa Tori no Ichi, Sensoji | Tokyo | Tokyo |
| Day 15 – Saturday, Nov 05 2022 | Nagano, Zenkoji | Tokyo | Nagano |
| Day 16 – Sunday, Nov 06 2022 | Ueda Sanada Festival, Ueda City, Sanada Shrine | Nagano | Nagano |
| Day 17 – Monday, Nov 07 2022 | Zenkoji, Kyoto, Nakagyo Ward | Nagano | Kyoto |
| Day 18 – Tuesday, Nov 08 2022 | Otsu, Omi Jingu | Kyoto | Kyoto |
| Day 19 – Wednesday, Nov 09 2022 | Fushimi Inari, Kashoji, Tofukuji, Shorinji | Kyoto | Kyoto |
| Day 20 – Thursday, Nov 10 2022 | Ohara, Sanzenin, Arashiyama | Kyoto | Kyoto |
| Day 21 – Friday, Nov 11 2022 | Kiyomizu, Ryozen Kannon, Yasaka Shrine | Kyoto | Kyoto |
| Day 22 – Saturday, Nov 12 2022 | Heian Raku Ichi Market, Osaka, Juso | Kyoto | Osaka |
| Day 23 – Sunday, Nov 13 2022 | Sukunahikona Shrine, Namba | Osaka | Osaka |
| Day 24 – Monday, Nov 14 2022 | Kobe (with Ran) | Osaka | Osaka |
| Day 25 – Tuesday, Nov 15 2022 | Maibara, Toyosato, Nagoya | Osaka | Nagoya |
| Day 26 – Wednesday, Nov 16 2022 | Osu, Banshoji, Naka | Nagoya | Nagoya |
| Day 27 – Thursday, Nov 17 2022 | Obara Shikizakura Festival, Rurikozanyakushi | Nagoya | Nagoya |
| Day 28 – Friday, Nov 18 2022 | Okayama, Kurashiki | Nagoya | Kurashiki |
| Day 29 – Saturday, Nov 19 2022 | Kyoto (with Xuanjie), Autumn Okayama Momotaro Festival | Kurashiki | Kurashiki |
| Day 30 – Sunday, Nov 20 2022 | Okayama, Sunrise Izumo | Kurashiki | Sunrise Izumo |
| Day 31 – Monday, Nov 21 2022 | Minowa, Enoshima Shrine, Ameyoko Market | Sunrise Izumo | Tokyo |
| Day 32 – Tuesday, Nov 22 2022 | Shibuya, Taito City | Tokyo | Tokyo |
| Day 33 – Wednesday, Nov 23 2022 | Akihabara | Tokyo | Tokyo |
| Day 34 – Thursday, Nov 24 2022 | Shinjuku (with Yaoxiang), Harajuku | Tokyo | Tokyo |
| Day 35 – Friday, Nov 25 2022 | Sensoji, Narita Airport, Flight from Tokyo to Edmonton | Tokyo | Edmonton |
| Final Thoughts | Final Thoughts | | |
Saturday, Nov 05 2022 (Day 15)
Today was the first day that my 21-day JR Pass ticket kicked in, so it's also the first day that I'm finally leaving the immediate Tokyo/Kanto region and venturing further afield. I had several options of small things to attend in various towns on Nov 05 in particular, for whatever reason (mostly due to the weekend), but it felt too much like going places to tick off checkboxes, plus I quickly found out that trying to book last minute accommodation in smaller towns was a problem — my original itinerary had me going to one town, then stopping off at another town on the 5th, booking an overnight stay there, then zipping off to yet another town on the 6th, booking an overnight stay there, and then going back down to Kyoto on the 7th.
I was always worried about this part of the trip though because it involved a lot of travelling and town-hopping over a couple days, and I didn't think that I would actually be able to enjoy the places I visited, especially after my experiences with back-to-back-to-back day trips on Days 4-6 of this trip. Those kind of worked out because they were fairly near to each other and small places to explore, but even then I felt rushed, especially since check-out from my previous place was usually around 10 am and check-in to my next place was usually around 3pm.
The inability to get what I considered a good place in my first area on the night of the 5th sealed the deal, and I chopped off a couple small things from the trip, streamlining it so that I was to spend two days, Nov 05-06, in one place instead of three different ones, before then taking the bullet train somewhere else to explore. So I started looking for places for where I wanted to be on the 6th, as well.
To my disappointment at first, I was also unable to find a place in the city/town that I wanted to be in on the 6th, Ueda City in Nagano Prefecture, for both the nights of the 5th and 6th. I did find some lodgings in a nearby town that was about 30 minutes train ride away though, which was fine by me, but also made me realize something — I have the JR Pass, and the shinkansen, or bullet trains, are really fast. The problem with the one-day day trips was not the time I had to spend in each town, but lugging the luggage around until check-in (though I could use a storage facility or sometimes leave my luggage with the hotel early on). But never mind the town 30 minutes away, Nagano itself, despite being twice as far from Ueda City, was only 12 minutes away by bullet train.
I realized that as long as I didn't mind leaving my luggage in another city/town, I could just as easily book lodging in a different nearby town from where i wanted to be, and take a train ride that was still shorter than many of the train trips that I took to get around Tokyo, and basically take "day trips" to the place that I wanted to get to instead. So that's what I did for these two days. My target was Ueda City, Nagano Prefecture on the 6th, but I booked a place in Nagano City, Nagano Prefecture for the 5th and 6th instead. That way, I could burn one day exploring in Nagano, and another day exploring Ueda City, as well. Also, even though I booked shinkansen tickets for this, they come with free cancellation or rebooking as well, so even if my plans had to change on the fly, I could manage that.
My first Shinkansen trip
So with all that being said, I booked a two-night stay in a Nagano hotel after about two hours of scouting and planning on the night of the 4th, and checked out of my last hotel, Centurion "plates are extra" Hotel Residential, after leaving them a scathingly mixed review. Getting to the iconic Tokyo Station for my first shinkansen trip was easy enough, a 9 minute ride on the Marunouchi Line, which wasn't (and had never been, as far as I saw) particularly packed, did the trick. Couldn't use my JR Pass on this line though, as this was a Tokyo Metro line, and not one of those whose names started with JR.
Tokyo Station's shinkansen staging area was pretty massive. The shinkansen ticket gates looked like this:
That's where one would usually use the first ticket, the general shinkansen ticket, which my JR Pass worked for. I immediately went to queue up for a non-reserved seat on the train to Nagano, of which there were two essentially nearly identical options, the Asama and the Hakutaka, with only slightly different routes. As Japan Station was on one end of the line, I saw the train stop and get ready for the next journey, which included all the seats being "turned" around so they were facing the "front" of the train in the new direction that the train would be moving in.
I got cold feet at this point though, partially because I still wasn't sure if the JR Pass would be enough to get an unreserved seat yet or whether I would have to go pick up an "unreserved seat ticket" or something to accompany it, and partially because I decided I wanted to check out the midori no madaguchi or the green shinkansen ticket machines anyway, and get a reserved seat ticket for my travel log collection. So I sacrificed making that train, instead aiming for the next one about half an hour later or so, and heading for the ticket machines in the meantime. I had to pass through the ticket gates again, thank goodness for my JR Pass. The ticket machines were very easy to figure out, especially since they had an English option too, and I soon had my reserved seat ticket in hand for free. As I still had some time before my train would arrive, I decided to wander the immediate vicinity of the ticket gates, and found another thing that I knew existed but had not seen yet — an ekiben shop!
An ekiben is basically a train (eki) lunch (bento), a little disposable lunchbox generally packed with rice and some sort of meat, vegetable, or side dish that was easy to eat and wasn't pungent or spillable for the most part. I wanted to make sure that I ate as many of these as humanly possible. This shop, named Ekibenya Matsuri, was extremely packed though, and moving through that shop was like walking through mud, since nearly everyone had luggage that they were manouvering as well.
I eventually found my victim though. An Okukuji Shamo Ben from (or claiming to be from) nearby Ibaraki Prefecture, purchased for 1155 yen.
With that in hand, I headed out to the shinkansen waiting area again as my train's departure time wasn't too far off. On the platform, I found the most expensive drink vending machine yet, with one drink costing over 200 yen.
Someone's taking advantage of thirsty travellers! It's weird, because so far I've noticed that central/popular vending machines are cheaper than out of the way ones, but those on train station platforms tend to be a little more expensive than, say, those just outside the station. And this one was a bump up from that even.
There was also a second Ekibenya Matsuri store here, on the platform itself, much smaller in size but also much less crowded. They weren't selling the ekiben that I had picked up though so I couldn't compare prices.
My train, the Asama 611, was waiiting for me on the left there, even though there were still 15 minutes to go before the train would leave, so I hopped on board.
Cool. I had an aisle seat, and there was someone in the window seat for most of the trip, but no one was in the middle seat. These seats were a lot more spacious and comfortable than airplane seats. There was also a luggage rack above and I put my duffel bag in there. I had my ekiben lunch once the train got going, and it was delicious!
This journey took 1 hour and 48 minutes. Once the person in the window seat left, I shifted over to take some pictures of the Nagano (Prefecture) countryside that we were going by as well. It was pretty, with lots of mountains and trees, but the window reflection and the walls next to the shinkansen tracks made it difficult to take good pictures, so I mostly watched and enjoyed it amidst working on my blog on my laptop, since each seat on this train had access to a power plug.
Soon enough, we arrived at Nagano Station, the other end of this line from Tokyo Station where it started, and I packed up and got out of the train.
I went down to the ticket machine to book a few reserved tickets for the next couple days, since I had a good idea of how they worked now, and then walked to my hotel. My hotel was about 20 to 30 minutes away, and the pictures I took are in the following gallery.
Hotel Unicorn
My hotel was named Hotel Unicorn, and how could I not book a stay at such a place once I saw its name? It was cheap, and more or less next to a train station and a (near dead) shopping street, but what actually sealed the deal for me, besides being one of the few places still left with a room for me, was that I saw a review that mentioned how the reviewer suspected it used to be a love hotel, with things like "themed" rooms and a radio control panel thing by the bed, and the location of the hotel itself being partway down a poorly lit side path instead of facing an actual road, even though it looked to be a normal hotel/hostel now. That sounded fun, so I had to see it for myself.
The front of the building was a bright and gaudy yellow, though the actual entrance was a small anonymous entrance partially hidden behind a low wall. So far the reviewer was right on the money.
Surprisingly, one of the two staff members that came to greet me at the little side window of the staff room (shady "reception") spoke pretty good English, and both he and the old woman owner seemed really nice from my check-in experience. I was ten minutes early, but the check-in process and explanation (which I mostly understood in Japanese anyway) basically took up the entire 10 minutes, so I checked in right on the dot and went to take pictures of my room.
Comments included in the picture captions above. The room doesn't have a microwave or even an electric kettle, but both are in the shared area in the hallway outside, which just happens to be opposite my door. i like that quote quite a bit too. "Maybe I've been hoping too hard. But I've gone this far. And it's more than I've hoped for." Apparently it's some sort of song lyric. The "DISINFECTED" above it kind of kills the vibe though.
The door itself has a metal turn lock and that's it, it is basically the lock one would find on a bedroom door in a normal residential house rather than on a hotel room door. But at least it has a lock, right? The main problem with this room is that while it isn't freezing cold, it wasn't ever really warm either. The temperature outside got really cold at night (3 degrees Celsius or so) both nights that I was here, since Nagano is rather high up in elevation (it apparently is the highest prefectural capital in Japan, and is surrounded by mountains), and it felt like there was a bit of cold air leaking in from somewhere. Even though the ceiling heater was apparently set to 30 degrees Celsius, and blasting out hot air like the jaws of hell itself, the air didn't really seem to reach the seating area or the bed.
The single window in the room was weird too. Not only was it tinted, it had two latch handles on either side of the pane, but even with them both unlocked, I couldn't figure out how to open the window, it just sort of slid a little ajar and then stopped with an inch-wide gap to the outside world. More love hotel quirks, I suppose. For that reason, I couldn't actually take a picture of the view outside. The window had wooden cupboard doors that could be shut to conceal any light from outside the room, or vice versa, as well, and I just closed it and left it shut when I realized that the window area was poorly insulated.
Anyway, it wasn't particularly warm but the seating area and the bed were both comfy, and I haven't seen any bugs so far, therefore so far so good. After resting for a bit, I went out to check out the town.
Zenkoji
My "hotel" wasn't far from Zenkoji, a Buddhist temple, either, so after walking around for a bit in the near-deserted shopping street near the hotel, I headed up that way.
Some of the trees, but not many of them, had turned bright red. I got a couple good pictures of other people taking pictures, as always. The temple bells chimed 4:30 pm on the dot, though I never heard it chime any other time. Perhaps I just wasn't close enough any other time. I did have some oyaki from a tsore on the way up, which is apparently one of Nagano's specialty foods. It's a large, chewy dumpling-like thing with filling in it, the two I had were eggplant for 270 yen and pumpkin for 240 yen.
There were several other flavours too, both from that store (Irohadou) and elsewhere, but the mushroom one I wanted was out. The eggplant one was delicious though!
Eventually, I made my way back down the very gentle hill from the temple toward the rest of the town again, looking for a place for dinner. I did find two loveable rubber ducks:
This was the third shop I had sesen in Nagano in half the day here with a rubber duck outside their shopfront, after none in Tokyo in two weeks there. I don't know why. But they were cute.
Nagano in general was quite pretty. It reminded me of Banff/Jasper, in how you could look in nearly any direction and see mountains. The early evening moon was out and was beautiful too. Wasn't it?
Around this time was when I discovered the name of the shopping street.
I guess a couple shops near the front were open and brightly lit to give the illusion of this shopping street being active and vibrant. It wasn't. There were a couple of streets and squares with trees drape in Christmassy lights, although the street ones were not lit. A couple squares were, though.
Finally, dinner. Dinner was a large bowl of yakisoba for 720 yen from some eatery named Imuraya Gondo. The shop wasn't actually in the Gondo Nagano strip though, it was a couple streets further south. I christened the dish Mount Yakisoba, but it was a little deceptive because that's dry chow mein beneath the top gravy and veggies, and that dry chow mein gives the dish a voluminous look.
The cook who took my order had looked at me quizzically and asked if I really wanted the large one when I made the order. I said yes, since neither ekiben nor oyaki were particularly filling and I have a healthy appetite anyway. I returned his dubious sideeye, and polished every last drop of it once the meal came. Could have likely eaten a second one, too, especially for that great price — most of the food stores I had seen in the town so far were on the expensive side and I was happy to find this one.
I then headed home, as it was blustery and cold, stopping only to take some pictures of the shopping street area at 5:45 pm in the evening.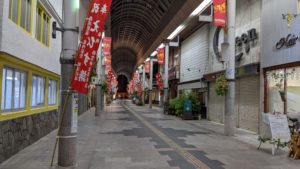 Completely dead. I also bought a tiny hot bottle of milk tea from that vending machine to warm up. Actually, when I had passed by that first Vietnamese shop earlier in the evening on my way to Zenkoji, the outdoor low stools there were full of people enjoying meals on the little low red tables, so that was interesting. Not sure how that shop would get customers wanting to eat outdoors once the snow and actual winter chill arrives, though.
Once I got home, I took a shower, worked on some work tickets, did some blog writing over the din of some Japanese TV and then went to bed. I must say that the Japanese TV channels have a lot of interesting variety shows, and also that passively listening to it is probably a great way to absorb more of the language.
Shinkansen Running Total
I'm premiering a new section for the rest of this blog series! I have a 21-day JR Pass that kicked in on Nov 05 and should last until the end of my trip on Nov 25. It cost $568 CAD, which cost around 61,769.08 yen, as per Google as of the first writing of this section. So I was curious and wanted to keep a running total — was this thing actually worth it?
This particular JR Pass allows me free travel on the shinkansen (besides the Nozomi and Mizuho) all through Japan, and also free reserved seat bookings (besides seats in Green Cars, which are basically premium/first class seats) on them. To get onto a shinkansen, one usually needs two tickets — a base train fare ticket and a seat fare ticket. The JR Pass acts as both of them together for free if I am taking an unreserved seat — I don't need to (and in fact, can't, the machine won't let me) pick up a separate ticket for an unreserved seat if I have the JR Pass, because that's what the JR Pass already is. If I want a seat in the reserved cars, however, I do require a separate ticket for this, but again the JR Pass covers the entire cost of this as long as I'm not in the premium section or taking one of the trains that the JR Pass doesn't cover at all.
But, I figure that unless I'm in a hurry, it's a bit silly to not take advantage of reserved seats when I can, since it's free with the JR Pass. Plus I like the ticket as a sort of travel log thing. So I always err on the side of getting one if possible.
Due to the above, there are a lot of numbers I could keep track of, like alternate route costs and what it would have cost me without a JR Pass if I took slower routes to get to my final destinations, but for purpose of keeping this as clean as possible, I am just going to note down the date, train model/number, and route I took, and the unreserved and reserved seat costs of that route, and keep a running total of both numbers to see if they beat 61,769 yen by the end of the trip. Seat costs are just whatever the Hyperdia website app spits out at me, since that's something I can access from my laptop or phone. Both the train fare and seat fare increase the further away the destination is from the initial station, but they do not increase at the same rate — the train fare seems to increase in a semi-linear rate based on distance, but the seat fare seems to increase based on "zone". There will be a picture in the Day 16 blog that shows an example of this.
Trips
ට  Nov 05 2022 – Asama 611 (Tokyo to Nagano) – U: 7810, R: 8340
Running Total
Unreserved: 7,810 yen
Reserved: 8,340 yen