I found New Orleans to be a very.. easygoing place. However, there were barely any Asians here at all, so I felt very out of place. I did not hate my time here though, and I think it was the most exotic and different city out of the five or six that I visited on my trip.
My incoming plane ride from San Francisco to New Orleans was on Nov 12 2021, and was a Frontier Airlines flight. It was scheduled for departure from San Francisco International Airport at 12:47 am PST, featured a layover in Denver from 4:35 am to 7:30 am MST, and slated for arrival at Louis Armstrong New Orleans International Airport at 11:10 am CST.
My outgoing plane ride from New Orleans to New York was on Nov 16 2021, and was a Delta Airlines flight. It was scheduled for departure from Louis Armstrong New Orleans International Airport at 1:41 pm CST, and slated for arrival at John F. Kennedy International Airport at 5:33 pm EST.
One of my two major goals for the trip from when it was still in its planning stages was to attend Rinuruc's wedding. The other was to finally visit Jahandar at his house. As a dear online friend of over 10 years and the owner of this blog, he's one of my closest friends and we share many inside jokes and nods and winks between us. But friendship is precarious, and we had almost broken up our friendship a couple months prior to the wedding due to a miscommunication, and although we did mend the fences in the end once the miscommunication was straightened out, it highlighted how fragile even the what I thought were the strongest friendships could be. So there was no time like the present to pay a visit to his house and beat the living daylights out of him. In a game, I mean. He streamed a game every Friday night to our peer group of friends on Twitch, so I had to make sure I visited him on a Friday! While he lived just over the border from Louisiana in Mississippi, the closest major city to him was still New Orleans, and he had offered to pick me up and drive me over to his place if I made my way down there. So, I made my way down there.
Day 16 – Friday, Nov 12 2021
There were predictions in Discord that I would face delays or missed flights in Denver, with someone calling it "where flights go to get cancelled". Thankfully I made it through without a problem though. I took something like 7 intercity flights (and one intercity bus ride, and two intercity train rides) during my trip and everything was more or less on time. In fact, I don't remember ever being delayed on any vacation I've ever taken. Some sort of traveler's luck that's bound to run out eventually I guess, but I will ride this as long as I can.
However, Denver airport was still interesting for a couple reasons. It had two facilities there that I had not seen in any other airport before — scratchcard machines, and tornado shelters.
I didn't, um, partake in either, but this plus the slot machines in Las Vegas International Airport did make me appreciate how airports act as a symbol or a microcosm of the city/country's culture too, a "first glance" at the city for travellers, whether that was their final destination or they were just passing through. And what does Edmonton International Airport have? Poo seats.
This was an overnight flight that was made out of two short flights that were under 3 hours each, and an overlay in between that was also under 3 hours, so I knew it was going to be difficult to catch any sleep at all. In fact, I almost missed the boarding in Denver because I was asleep (I missed my section boarding and boarded with the last wave). I slept 1 hour in the San Francisco airport, 1 hour on the first plane, 30-40 minutes in Denver, and then 1 more hour on the second plane, and that was all the sleep I got on this night. And I was going to play a co-op game with Jah on his couch that evening. I wondered if I could stay awake that long.
When I arrived in Louis Armstrong New Orleans International Airport, I could feel the vibe of the city hit me right in the face. There were paintings mounted on walls in the arrivals area like this:
That made it feel.. minimalistic? Avant-garde? I'm not sure. Everything felt "new", and this terminal apparently opened in November 2019, so it was just about two years old. In the public airport lounge, there was also this band serenading tired visitors dazed from their overnight trips:
How awesome! I took a bus downtown, and I also bought a one-day unlimited pass, a Jazzy Pass, for $3, but I didn't activate it. Transportation in New Orleans was cheap! A regular bus fare cost something like $1.25, and the downtown to airport bus (and vice versa) cost a mere $2. It put every other city to shame. The $3 daily pass even included streetcars and ferries, and there was an $8 option for a 3 day pass too. I didn't opt for that though, and this turned out to be a good move, as I just ended up walking everywhere and never really used the buses that much.
Anyway, for the moment, I found myself downtown, along St. Charles Avenue, ogling at and dodging streetcars as I walked on east. I turned down Washington Avenue until I reached Magazine Street, and saw a restaurant named the Ruby Slippers. I loved the name, so I went in to sup! I ordered the "Trifecta" for $26.04 after tax and tip.
The Trifecta was my choice in the end because it was a sample of three other things that the Ruby Slipper served, as it was described as the "'Taste of Ruby' featuring one serving of Eggs Cochon, Chicken St. Charles and Bayou Shrimp Benedicts".
After lunch, I continued on my trip, lugging my luggage along with me as I wended my way north and east. Jah and I had not figured out exactly where we were going to meet yet, and he was busy at work to boot so it wasn't the best time to discuss it, but we had mentioned the Warehouse District in prior conversations, so I aimed to head over in that direction. I still had many hours to go though, so I first wandered the area, looking for things that caught my interest. I wandered by Fulton Street, which was a nice, European-esque outdoor pedestrian street that was unfortunately mostly shuttered, probably due to COVID-19. Still, it had a nice ambience to it, and I broke out my video camera there.
I then walked from there to The Outlet Collection at Riverwalk, a mostly two-storey shopping mall, passing a parking lot with a large whale mural on the side on the way, advertising the nearby Audubon Aquarium of the Americas. That must have influenced me, because after walking through the shopping mall, I then went over to that place, my fourth aquarium of the trip (the previous three being Las Vegas' Shark Bay Aquarium, San Francisco's Aquarium by the Bay, and a small aquarium inside the California Academy of Sciences in San Francisco). It was quite possibly the best of the four that I went to, although SF's Aquarium by the Bay was pretty good too. I kept my video camera running the entire time, so there's some footage of it, although I did notice that the camera tends to flicker in places with both darkness and light, and I'm not sure how to fix that.
After the aquarium romp, I sat down on some benches outside of the aquarium to rest my old, aching bones (I'd been lugging my backpack and sling bag with me all the way through this and was exhausted and a little sleepy) and stared up at the front entrance of the building. There was a large bird cage with birds inside over top of the entrance. I felt sorry for the birds, but they made a lovely melody as I enjoyed the sunset next to a mother and her pram.
As this point, it was 5:30 pm, and the sun was setting, so I got up and started walking again. Jah had originally suggested Harrah's as a place to meet up, so I went over there but couldn't really find a way in, so I went to Canal Street and found a nice mall to briefly walk around in, and then tables to rest at while he drove over from Louisiana. This location was The Shops at Canal Place, and I sat there for about 45 minutes before setting off again.
This time, it was dark out, and I looked for a place that Jah could potentially stop at to pick me up, as Canal Street (and many of the streets intersecting with it) was packed, and while there was parking space at the side of the roads, a lot of them were also occupied.
I took pictures of the night city as I walked,
And noted that while there were a few "Asian" stores around, they were ALL sketchy massage parlours with near-identical signs that looked like this, but which I had never seen before outside of New Orleans:
I also saw some gangs on ATVs and motorcycles racing by and doing stunts like rearing up on their front or back wheels, which was a very weird sight:
I did find a good place to wait for Jah near a Starbucks, and PMed him as the motorcycle and ATV gangs had made me a bit antsy about being out here at night, but he wasn't checking his Discord phone as he drove (how responsible) and so actually drove right by me at one point. He ended up parking at the Hilton New Orleans Riverside parking garage, which i learnt was the name of that building with a whale mural on it that I had walked by before the Riverside mall and the aquarium earlier. Once he reported this, I headed his way and we met halfway and embraced before walking back to where he had parked. I was aghast that he'd pay for parking when I was trying to meet him somewhere so he could avoid paying, though.
He then drove me back toward his house in (technically) Ocean Springs, Mississippi, a little across state borders. This ride took two hours or so — we left about 7:15 pm CST, but it took us nearly an hour to get out of New Orleans on the I10, and then the rest of the time along the I10 until we reached the turnoff to Jah's apartment. I took a picture of him driving at 7:42 pm whose GPS data still put us well within New Orleans.
Eyes on the road, Jah!! He had a dashcam that wasn't working and I spent my time fiddling with it until it started working again. He also told me several stories, I remember one in particular about the John C. Stennis Space Center/INFINITY Science Center nearby, and the rocket engine that was standing on display outdoors there.
Anyway, we reached his home without further incident, though Jah Stream Night usually starts at 9:00 pm CST and we only stepped into his apartment at 9:15 pm this evening. I went to take a shower while he set up our co-op game for the evening, and I then made fun of him for having a comb in the bathroom when he keeps his head shaved. We settled down on his TV in front of the couch, with Tigey, Ducky, and Clara front and center, and finally started our game at about 9:40 pm. This is what it looked like behind the scenes of Jah Stream Night:
As can be seen in the video above, we played Moon Hunters, and finished an entire playthrough of the game, managing to do quite well in our playthrough. I was really sleepy for this as I had not properly slept in nearly two full days at that point, but I survived somehow. After the game, Jah took a shower while I refilled my water bottle, charged my electronics, and did some laundry. Jah also went out to his car to grab something, and a Little Miracle happened on his way back.
In July 2020 or so, Jah had noted the presence of a neighbourhood cat that occasionally visited his apartment, and he would feed the cat whenever he saw it. He had informally named the cat Trespasser and most of our Discord regulars knew about it. But at this point, Jah had not seen him in a couple months. But Trespasser happened to stop by as Jah was coming back in, and while Jah was all aflutter about it, I brought out Tigey and managed to touch Trespasser with it, adding the cat to the long list of notables that Tigey, my symbolic and emotional link to my past, has touched. After that bit of excitement, I then settled down on the couch to fall asleep. That couch was REALLY cozy, especially with the extra pillow and blanket that Jah brought me, and I was out like a rock until the morning.
Day 17 – Saturday, Nov 13 2021
My first point of order on Saturday, once I woke up and before we left the house, was that I had to book an Airbnb in New Orleans itself. Jah had suggested a couple nights ago that it would be better for him to spend a night in NOLA itself, so that we could spend Friday night to Sunday afternoon together and hit up several places all at once. He would sponsor the stay in his apartment for Friday night, so I searched for and found an interesting looking house with a garage in New Orleans on Saturday night for the two of us. I booked the house for three nights, Saturday through Monday.
Once I did that, we prepared to leave the house and head back toward New Orleans. But before we did so, I found the wall portrait in Jah's house that he had turned my unintentional poem (that I had mentioned in a My Diary #005) into, and I took a picture of it. I then asked him to snap a picture of me next to the portrait, cause why not.
I also managed to hide the lucky cat (that I had bought back in San Francisco Chinatown) in Jah's house, specifically in one of his drawers for wire cutters and testers. You can see the drawers behind me in his Stream Night #361 video above, the leftmost white cabinet. I snuck it in there in a surge of inspiration just before we left the house, when Jah went into the bathroom to freshen up. The red cat really stood out against the pale colours of everything else to me, and I was worried that Jah would see it even before we left the house (as I could more or less see it from the entryway of the house) but luckily he didn't notice, all the way until November the 28th, almost a week after I arrived back home!
He christened the cat Lucky, and Lucky is currently well-loved and (hopefully still together with Tignardo or whatever he ends up calling his Tigey) acting as his guardian angel.
Jah drove me back toward New Orleans, taking a bit of a longer and more scenic path this time since we were doing it in broad daylight. We took the I90 along the coast, passing through Biloxi where he used to live, stopping for brunch at a place called Taranto's Crawfish. This was as rural small town diner a meal as I got on the trip, and that was not only a great meal but a valuable new experience as well. And I thank him for this experience — without his car (and his propensity to live out in the middle of nowhere) I would never have had this chance to come out to a random town far away from where tourists go and have a great, authentic meal. In that sort of place there was (as far as I could tell) very little racial diversity and such, if I felt out of place in New Orleans then I definitely felt like a fish out of water here in rural Mississippi, but I felt completely safe next to him. I'm not sure how many Chinese guests that diner receives each year though.
But back to the moment, I had a Half and Half platter (Catfish and Fried Crawfish), and Jah had a Half and Half with Shrimp and Catfish, I think. Jah and Rin really wanted me to try good boiled crawfish, but it was out of season, and they had some left that they could fry, but no fresh ones to make boiled ones with, or something like that. The menu looked like this:
And our meal looked like this:
Jah also ordered a plate of deep fried hush puppies on the side, and we split that. He refused to let me pay for any of it, that gentleman. They had lots of tasty sauces there, and I was able to get a tomato/tartar sauce mix going, reminiscent of my Singapore days. They also had a sauce that I was unfamiliar with but that I loved once I try it — remoulade sauce. I also saw this sign on the wall and had a good laugh over it:
Having filled our bellies, we continued our way back toward New Orleans. We were back on the I10, but instead of taking it all the way to New Orleans, we veered off onto the I12, and then the I190 (I think), and then reached the Lake Pontchartrain Causeway, the longest continuous bridge over a body of water in the world. Jah mentioned something about someone in his extended family owning some property near the top of the bridge, off a road which was very hard to miss (and if you missed, you had to drive down the entire length of the bridge and back to get another chance at seeing the turn). Despite him trying to point it out, I still couldn't see the turn. I would have missed it and had to go down the bridge and back! This is why I don't drive.
Anyway, we went over that bridge, and I snapped this pic in the middle of the bridge as I watched Tigey contemplate the life choices that he had made in his life that led him to be travelling across the longest and loneliest bridge in the world, on the other side of the world from where he was manufactured.:
I noted that the bridge had little turns and shoulders at regular intervals for cars that had second thoughts, or emergency and service vehicles, so it probably wasn't quite that bad. I wasn't quite sure if regular, non-emergency/service vehicles were allowed to actually use those turns though.
Once we arrived in New Orleans, we stopped by the Airbnb house, which was a fairly decently-sized two bedroom house with a grass lawn on the side that could fit a couple cars. We dumped off our luggage, and headed out again to check out the French Quarter.
By this time, it was around 3:30 pm. We walked south from our Airbnb house to St. Charles Avenue where the streetcars ran, and caught the first eastbound one that came along. But when we got on, the driver just waved us on and told us not to worry about paying. We thought we lucked out, until the streetcar travelled about four more stops, and the driver then ordered everyone out, saying that that was the end of the truncated line due to repairs or something. I then took a couple pictures of Jah trudging forlornly down the tracks, contemplating his own life choices that led him here:
We talked a lot as we went, and I noted how in New Orleans, more than in any other town, traffic lights seemed to be a suggestion rather than a rule, and people would just gaily jaywalk despite a red pedestrian light if the coast seemed clear. In addition, even if the coast wasn't clear, by and large the drivers were polite and would stop for the offender anyway, or a driver and pedestrian might exchange apologetic waves at each other after avoiding a near-collision. Despite all the jaywalking I saw here, I heard more honking from my hotel room in the first night when I got to New York, than I heard the entire four days and change that I was in New Orleans. When they call the city the Big Easy, they were probably referring to how chill the drivers and passengers here were. Of course, I'm sure there are pockets of rush hour and stuff that make even the most patient saint raging mad, but I didn't see it during my time here.
We cut across the French Quarter of the city, with this particular photographic view calling out to me:
I really like the near buildings in the foreground juxtaposed against the taller buildings in the background, it was a very cascading sort of effect that caught my eye and that I actually used as a landmark when getting around in subsequent days. For the moment though, we cut down to Decatur Street and then walked to Jackson Square, eyeing a few artists and musicians scattered around the streets, although it was too near to the end of the day by that point and there weren't many people left. I also liked this piece of architecture along the way:
In general, the buildings in this part of New Orleans were very pretty. I'd like to visit continental Europe someday and look at their architecture there too. There were also lots of horse-drawn carriages about:
And while it wasn't the first time I've seen things like this, I didn't really expect to see them in the middle of a large, urban city either. There were a lot of samey tourist trap shops with the exact same goods in each one, and I also noted to Jah that there were a lot of shops selling pralines, which was a word I had never even heard of before but was a kind of confection that was really popular in the New Orleans area. It's telling when the first suggested question on Google when you search for "praline" is not "What is a praline?" but "What even is a praline?", with emphasis on the confusion that many other people must have had over the years. I didn't try it this trip, but once I knew and recognized the word, I believe I saw it a couple times in New York as well. But besides that, there were also some cool-looking side streets like this as we went around:
And cool graffiti or wall art pieces like this:
That serenaded us with their colours as the sun set. We then participated in a 5-in-1 New Orleans Ghost & Mystery Tour. from Haunted History Tours, and it was a complete mess. Unlike the San Francisco one, which I thoroughly enjoyed and was led by a good storyteller, this one was very "touristy".. our original guide either never showed up or only left with half the group in tow in the first place, so after some complaints and a long bit of waiting, we had to join another group that was already a couple stops into their tour and might or might not even have been on the same tour schedule as us. There were a LOT of other tour guides around giving their own tours too, from the same or competing companies, and the guides would occasionally call out to each other and wave at other guides that they recognized.
In addition, unlike the San Francisco one, where the guide brought us to specific locations and then told us the significance of that location and/or had us try our ghost detection devices on it, the tour stops in these Nola tours had by and large nothing to do with the actual stories that the guides told. Part of this was probably because there was not enough room for all the tour guides to take their groups to particularly significant places anyway, but part of this was also just that a lot of it was just retelling of random legends that could not be attributed to a particular place that we passed by anyway. It was interesting history, but history that had nothing to do with the location we were in! This tour was extremely poorly done and I don't recommend it to anyone. At least we got a sticker out of it, I guess (though I wouldn't be caught dead wearing this). I did film this tour as well, though.
The tour ended up with us back at Jackson Square, and from there we walked northeast to the famous Bourbon Street. I pulled out my video camera again and took a video of our trip down the lane as we cut down all the way to Canal Street and looped back around  It was a very, very noisy but cool experience — bands and people playing their instruments, beating on drums or on the underside of pails, storytellers and comedians, acrobats, and so on. Really a smorgasbord of street entertainers. There wre some charlatans in particular who worked up the crowd by having the acrobat in the group perform some slick moves, and then invited some audience members to line up so the acrobat could then leap over them all in one fell jump.
Or at least, that would have been cool if they didn't take about 15 minutes fleecing the watching audience and the volunteers lining up in the center, asking for donations and playing to the crowd in a ridiculously transparent manner, before finally letting the acrobat member do his job. By that point, the emcee had the volunteers all huddled together and bent over so it was a far more reasonable jump than if they were all standing upright like originally implied. Anyway, it was silly, but it was entertainment to watch once at least, and Jah even donated some money to the hat here. I would notice this exact same act performed by at least two other groups of acrobat + emcee during my remaining time in New Orleans though, and it screamed tourist trap to me each time.
But there were other impressive performances, and plenty of music and smells wafting out from the bars and shops that lined Bourbon Street. There was also a procession of smartly dressed ladies and gentlemen that marched down the street at one point, flanked by police motorcycles on either end to clear the way for the procession to pass. I had no idea what all that was about. There was also something negative that happened here though, as my phone slipped out of my jacket pocket and dropped onto the ground while we were walking down Bourbon. Thankfully, a man passing by in the other direction noticed it, picked up the phone, and flagged me down to return it. I thanked him, but also noted that the screen now had a crack in the top right corner, though it was still very much usable.
Jah had paid for lunch, the haunted tour, the street performer donations, and even the Uber ride back home once we decided that we had enough of Bourbon Street. This was to alleviate my travel costs, he said, since I was on this massively epic trip across the United States. I really appreciated it, but it also made me really uncomfortable that he would spend so much money on someone like me, so once we reached back to the Airbnb, I decided to slip him a couple $50 bills the next day in addition to Lucky the cat figuring, which was already lying in wait for him back home.
Day 18 – Sunday, Nov 14 2021
Through yesterday and today, Jah and I had noticed the state of disrepair that our Airbnb was in. This was a Superhost house with more than 5 years of good reviews. I had seen what seemed to be a mouse or rat run by us the day before, but I wasn't 100% sure because it flew by in a flash and went into a cleaning closet, and when I reported this to the landlady, she apologized, feigned innocence, and sent someone by to put down some traps.
Our locks were also flimsy, and both the front and rear doors had bolts that wouldn't even really fit into the bolthole. The front door lock itself was also practiclaly falling off. We had to prop a chair against the washing machine and the back door in the kitchen because it wouldn't close properly. In addition, the front gate lock was just a chain that didn't actually lock anything shut, it was just a chain link loop placed over the fence that anyone walking by could lift up and then open the gate freely. It was really sketchy. There was also a weird voodoo doll thing that was in one of the drawers that I took out and placed on a chair, though I wasn't sure if this was good luck or bad luck.
The bedrooms were quite large, and Jah and I had separate rooms, though they were linked up in a weird serial format, with the front door leading to the cozy front hall with TV and a sofa, then right into the first bedroom, then right into the second one, then into a hallway with a closet and bathroom, then into a kitchen, then out the back door into the garden, all in one straight line with no alternate paths. It was like half a house that had gotten partitioned up. Still, it was decently nice, and we did what we could and then went out to enjoy ourselves. This is Jah contemplating my house choices after he used a hammer to knock the front door lock into place so the deadbolt would close.
.
Even though Jah had his car parked there, he decided that we'd take an Uber down to our first location of the day so that we didn't have to wrangle with parking.
This first stop was my second Escape Room of the trip, the DeLaporte Jazz Parlour escape room hosted by Escape My Room. This was absolutely an awesome experience! There was a detective agency waiting room that we went into where we had to declare our investigation agency team name.. naturally, since I had brought Tigey along with me, we christened it Tigey Investigations. Our hostess really leaned into this too, as she introduced the plot, talking about how she, as the person hiring Tigey Investigations for this murder mystery, had heard great things about us and so on. We even took a picture of Tigey at his desk before we went in to the actual escape room.
The escape room completely floored me. It started us in a single room, but as we completed puzzles and tasks and found secret buttons to press and things like that, things would fly out of secret compartments from the ceiling and walls via magnets or some other technological magic. And I swear to the gods, the moment we completed the first room and a secret wall literally swung open to reveal the second room, our jaws dropped. There were all kinds of puzzles in the room, with musical tunes, chess puzzles that triggered some sort of magic via magnetic chess pieces, invisible writing that only appeared under a special light, a constellation puzzle we had to solve on a door, a trivia puzzle we had to solve based on information that was scattered in the rest of the room up till that point to see how much of the game lore we understood/read, and finally the name of the perpetrator that we had to solve using a series of vials hidden around a room that we found and then stuck into a test tube holder that somehow then opened the final door and let us escape.
The experience was awesome, amazing, and worth every penny of it (even more so because Jah had also insisted on paying for this, but by then I had already planted the money anyway so I wasn't feeling as bad). We liked it so much we created a DJP page on Shiarapedia to track down some of our fond puzzle memories so we wouldn't lose it completely. It was a very cleverly designed escape room and it felt like every inch of the space was oozing with charm and ambience and stuff that might not be directly related to the puzzle but was definitely related to the lives that the fictional family led, unlike the San Francisco one I did which basically had areas in each room that were obviously related to the puzzle and that was it. This room also only apparently had a 38% escape rate, but we won! There was an optional task that we didn't complete though, since we only had 4 minutes left and the guide said it would take 15 minutes or so, but she filled us in on the lore of the room anyway before snapping a victory photo for us. She insisted Tigey be front and center for this one too, and instantly gained a bunch of Tigey rankings for that.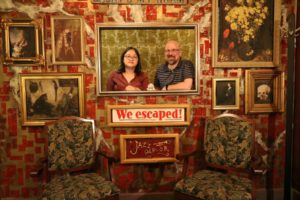 We then went to a place in the French Quarter called Deanie's Seafood for lunch. I had their Chicken Andouille Gumbo Bowl and some unsweetened ice tea, Jah had the Seafood Okra Gumbo Bowl and water. We also bought a bowl of Charbroiled Oysters to share. This overall meal was pricey due to the oysters, but fairly good, and Jah finally let me pay for something. My share was $37.50 after taxes, tips, and the two-person split.
We then went back to walking around, making our way eventually back to Jackson Square where there were now a ton more people than yesterday. Someone offered to polish Jah's leather shoes here, but he refused and we laughed as we headed off. My shoes were cloth and tattered anyway so I would never have gotten an offer like that, but Jah must have looked rather affluent to the person trying to swindle Jah into some shoeshine.
After our jaunt, we made our way back home. I also bought those Zapp's Kettle Potato Chips above, as they had come highly recommended by Rinuruc, and with that in mind, I had found them in a convenience store called The Everything Shop on Canal Street. I had bought two for $4.36, and given one to Jah after he returned the house as thanks for the companionship, and to act as a distraction so he wouldn't think to look for the two $50 bills that I innocently slipped into his backpack while he visited the bathroom. It was nearly 3pm when he finally left the house, and I felt really sad as he drove out of the driveway and headed home so that he could prepare for work the next day. I had really enjoyed our nearly two days together. Thanks Jah!
I was left alone in the house, and I started to take pictures of the place, documenting the mess that was the front and back doors and locks. I was rather anxious now that Jah was no longer there to protect me, especially when I found that the front lock had fallen off again — hammering it in place wouldn't actually have helped because the entire lock mechanism was falling off the front door. But what really spooked me in the end was when I looked in the traps, and I found two mice in them, one unmoving one by my bed and one still wriggling in the kitchen next to the fridge. Both those pictures are at the very end of the gallery that follows, so be aware if you, the reader, are squeamish. You might want to skip looking closely at them.
There was also a dog kept in the backyard outside the back door, which I found to be really weird since we were the only ones living in the house. I assume there was someone living in the opposite half of the house that was sealed off, and the dog belonged to them, and acted as a sort of guard for the back door or something. Still, everything was sketchy. I called the landlord asking to see if she could remove the rats from the trap, as the one by the bed was literally three feet from my head when I was lying down on the bed, and if I knocked Tigey off the bed at night he could easily have landed right on the dead rat in the glue trap, as it was out in the open.
She didn't respond though, and the more I sat there alone in the house, the more uneasy and then panicked I felt. I had moved everything I owned up onto the bed by that point, making sure that there was no rat or mouse squirreled away in my bags. It was the first time in my life that I had seen either of these rodents in person, so I wasn't sure which one it is (and still am not sure). I did see a third one skitter past me behind a kitchen appliance, and that was the final straw for me, since it was approaching three hours since I had contacted the landlady by then and she had yet to reply to me. The internet was really bad as well and kept flickering on and off, and I noted that this was my first Airbnb room that did not include a Smart TV (although I hardly think that was compulsary. I had future bookings that did not as well that went just fine.) I inquired with Airbnb support to see if I could change houses too, but they also did not respond to my chat inquiries after 25 minutes, despite promising a 0-2 minute estimate time.
With that, I took everything I owned and checked out of the suite, locking up and placing the key back in the pick-up box by the front door in search of a better home, even though the sun had set by then. I absently took a bus north to a Pho store that Rinuruc had recommended, MoPho, although I had to wait quite a bit for the bus. I noticed plenty of colourful graffiti and several stray cats around the area as well, and eyed them with a camera as they eyed me over and then ran off.
Those poor vagrants. Soon enough, with still no reply from either my landlord or Airbnb (it was nearly two hours by then and all I had received from the latter was a boilerplate message), I reached MoPho and had their Beef To-go Pho for $20. That included a tip, as I had told them that I was waiting on Airbnb and trying to find a new place for the night, so they allowed me to sit in there and use the washroom even after I finished my meal, even after their closing time at 9pm came around (though there was another group in there lazily chatting and finishing up their food as well, unmindful of the fact that they were past the store's closing time).
I spent that time looking for a new place to stay, despite having such little notice — I had resolved not to go back to the old Airbnb and needed a reservation within minutes. I looked at some cheap motels on the northeastern side of town but they were too far to get to and I didn't really like motels. In the end, I ended up contacting another Airbnb rental owner through the app, and they said that their suite was available for me to use right away. At 9:30 pm or so, I booked my second Airbnb in New Orleans, a little room in the Lower Garden District just south of the Warehouse District and Jackson Square. I took an Uber over there for $23.86, and safely settled into my new lodging for the next two nights.
This room was located next to a bar, and I found out that the front door and window were right up against the front pavement that went by as well, which was really interesting. As much as I thought the Los Angeles Airbnb was bad for being able to hear everyone and everything walking or driving by, this place was even more amplified in that respect, and it was extra scary because the front door had no actual key lock, only a combination lock, and no deadbolt from the inside either. And the front window was large and protected only by a thin set of blinds.
It being a busy place with a 24 hour bar next door meant that stealthy thieves were unlikely, but what would happen if some rowdy drunks came by and decided to smash the window and force their way in? Or if a former patron had figured out the trick to getting a free room next to the bar by renting it for one night, figuring out what the lock combination was, and then discovering that (in my hypothetical mind) the owner never changed it? My main problem with this rental was that the bed was located behind a partitioning wall that blocked me from actually being able to see the front door from it, and so all the little noises that I could hear, especially of doors opening nearby, spooked me as I had no idea if it was my door or not. I eventually propped a chair and table against the door though, and balanced some bottles on the table so they would make a racket if they fell over. You can see this in tomorrow's pictures.
That being said, that was just about the only negative about the unit, besides the fidgety heaters (there were two separate remotes for two separate heaters in the unit but they had to be set to exactly the same settings or they would break) malfunctioning at some point. I managed to figure it out with the owner's help though. The rental scored big points for having no rats or mice in it, and having stone walls and flooring so there was no chance that a rodent could ever burrow its way in.
Other reviews had warned about the noise and the rental unit had provided a white noise machine beside the bed to help patrons sleep, but I had no need for that — once I figured out how to prop the table and chair against the door, I had achieved relative peace of mind and had no issues doing some work and then falling asleep even with the occasional outburst of noise nearby, as it didn't bother me at all. Heck, I was happy to have a safe bed tonight, period. Oyasumi!
Day 19 – Monday, Nov 15 2021
I woke up and was glad to be alive. I was taking the 16th off work for my travel to New York, but I was scheduled to work today, so I spent the morning finishing up my daily allotment of tickets before slinglng my bag over my shoulder and setting forth on another adventure. I wasn't quite that optimistic though, since between Jah leaving and the panic over the previous Airbnb, and the uncertainty of having neither the hostess nor Airbnb get back to me yet by that point, I was feeling rather moody and couldn't wait to get out of New Orleans. But I only had one full day left here, I still needed to find a New Orleans plushie, and there were plenty of things left that I had not eaten, so I needed to get out there and enjoy my trip.
I stepped out of my house, planning to walk all the way back to the French Quarter again, as I liked the area and wanted to check out a few toy stores in the area that Google Maps had suggested. Not long after I stepped out, I came across another cat.
I think the cat gods were watching over me after my run in with those rats. I hadn't seen any stray cats at all on my trip up until yesterday evening, yet I had seen easily half a dozen since fleeing the house.
For lunch, I scanned the shops as I walked north and east toward the French Quarter, and I settled on an eatery called Mother's Restaurant. Like the name, it seemed very homely, with a bunch of chefs and helpers making the food just behind a counter while someone in front took orders. I ordered their Famous Ferdi Special, and Red Beans and Rice, small size for both so I could try out both dishes. It cost $21.50 and there was thankfully no mechanism to beg for tips, which I appreciated.
Despite the sandwich order (the Famous Ferdi) being the "small" size, it was still pretty enormous! The red beans dish was appropriately small. The meal was kind of dry overall, but not terrible. I watched some football highlights on a mounted TV as I ate, before setting off again.
Over the past couple days, I had seen some interesting shops around where N Peters Street branched off of Decatur Street, as Jah and I walked by on the other side of the road, and that was my target for today. I located a plushie there from a shop called the Little Toy Shop that would eventually become my New Orleans plushie, but at the time I had not decided on it yet, as he was rather large and I was worried about how much I could bring home. So I left him there while I continued to explore the shops. Just north of that area was a small square of greenery called Latrobe Park, and a cafe called the Gazebo Cafe next to it, where a live band was serenading patrons and passersby with their music:
This was also the only point in my New Orleans wanderings where I saw other visibly East Asian people outside of massage parlours — there was a group of about four Chinese businessmen, dressed in immaculate suits, walking around and sightseeing the general area at the same time as me. The fact that I still vividly remember their presence six months later shows how much they racially stood out to me. There was also a man sitting around in the park with an incredibly tiny and cute dog, and I and several other passersby asked for permission to take a picture:
They seemed to like the attention. I then walked past that area, and reached my actual target, a covered flea market called the French Market.
A lot of cool handmade jewellery and food and such. Around here, my phone buzzed, and the previous landlady got back to me at around the same time. She was basically really apologetic about the house, saying that she had recently renovated the bathroom and that the rats must have gotten in at that time as the floor was left open for a bit. She had no idea about the locks and promised she'd fix them, and kept on saying how she was really active in the community and was helping the mayor and city with things as part of her job and all. I told her I would give her the benefit of the doubt and wouldn't give her a good or bad rating if she would refund me for the other two nights that I had originally booked her place for, since I had checked out in the afternoon and left the keys behind and now had a new place to stay to boot. She agreed and did so, reaching out to Airbnb who then reached out to me and processed the refund. The first night was the most expensive night so I only got back a bit over half of what I had paid for it, even though I had only stayed there for 1 of the 3 nights, but that was fine, as that pretty much still offset the entire cost of the other Airbnb.
I had settled down on a bench outside the flea market to talk this out, so once I was done, I wandered back in. I still didn't find any nice handmade plushies, but I was still glad to have that unpleasant bit of business behind me, I purchased a drink from a stall named Mother Nature's Cupboard, that they called Tiger's Blood Snowball. It was basically syrup on a hunk of ice, but that was fine.
I went back to Latrobe Park and sat down on a bench there to finish it, making sure not to bleed all over my blouse, before moving on. I was accosted by a beggar around here who asked for some change, so I gave him a dollar to right my karma, before heading back to the earlier store, the Little Toy Shop along Decatur Avenue. It wasn't long before closing time at this point, and this was my last full day in town, so I decided to lock in the plushie purchase, and picked up the Mary Meyer pony featured in My Diary #033.
I still wandered around a bit more before I went home, even passing Bourbon Street and Jackson Square again (and seeing the ridiculous vaulting over six people after fleecing their money performance thing in both places again). I wandered into some gift stores and looked at some voodoo dolls and such, thinking of buying a set back for everyone in the family to have one, but they were expensive and I figured everyone would find them creepy, so I didn't.
For dinner, Rin had casually suggested turtle soup, and I went on a quest to find a place that sold it for a reasonable price, but every shop I found in the area was either not open, was not selling it on that day (or not that early in the evening), or was far too expensive, so I gave up. For my last meal in New Orleans outside of the airport, I opted for something called the Taste of New Orleans, from the Royal House Oyster Bar.
The item on the top was Chicken Andouille Gumbo, the item on the bottom left was Crawfish Étouffée, and the item on the bottom right was Cajun Chicken & Andouille Jambalaya. It cost $24 in all, and I brought it back to my room to have later that night. Of the three, the etouffée in particular was amazing! But they were all good in their own right, if not particularly filling for $24.
For the moment, I walked back from there to my house, a long 25-30 minute or so walk through the city even though nightfall had hit. I knew from the morning walk that one part of the walk included taking a couple crosswalks under an overpass road, and that there were homeless tents encamped there, but I stuck to the other side of the street and didn't encounter any issue. I took several photographs on the way:
I then settled in and had dinner. I locked my door, propping the chair and table and bottles against the door as I did on the previous night:
I showered and finished dinner, and then settled in for the night. I had no work the next day, though I still wanted to attend our morning standup meeting before the flight. It did mean that I had no work that night to work on, but I did have something more important — I hadn't booked a place of accommodation for my New York stay yet, nor had I decided exactly how long to stay. I was also worried about the rapid COVID-19 PCR tests that I'd need to get back into Canada, and how, looking them up online, they seemed to cost $250 or so, whereas regular COVID-19 PCR tests would take 2-4 days to arrive, and I needed test results from within the past 72 hours.
I agonized over this all night, and it was slightly past 1am when I finally decided on my plan of action and booked a split stay — a hotel near Times Square for the first two nights, and an Airbnb stay in Queens for another four nights. The first two, being more last minute, and also being in a cute looking hotel in prime real estate, cost about $420 for the two nights in total, while the last two, being someone's house in a more suburban part of the city away from the core, cost about $400 for the four nights in total.
Satisfied with that, I went to bed. This night was even easier than the previous night, and I proclaimed to my friends in Discord that the cars driving by with the occasional honk were cute, and the white noise machine was ineffective but cute as well, and that I had no idea what all the negative noise complaints were about. The next morning, I woke up bright and early and checked out to take a bus to the airport. I was hoping to grab breakfast along the way, but it was not meant to be, the store near my Airbnb that I was eyeing was not open quite that early, and I calculated and figured that I didn't really have the time after all if I wanted to make my work meeting.
I activated that $3 day pass that I had bought on my very first day in New Orleans but still had not activated up till this point, and used that to catch a bus from my Airbnb to Poydras Street, where I could then catch the bus to the airport, I couldn't use the day pass for that subsequent ride though, so that cost another $2. The bus also didn't actually come on time, and both I and another guy who was waiting for the bus were a bit nervous. Then the bus finally came, or at least one that seemed like it — the other guy asked if it was going to the airport, the driver said yes, so we hopped on. About halfway there though, we found out that it was actually the wrong bus — this bus driver had neglected to inform us that it was going to the old airport, which was attached to the new one but with barely any flights (if any at all!) flying out from it anymore, and it was facing the opposite way to boot. The old airport faced south whereas the new one faced north, and they basically had their backs to each other like pouting tsunderes. The bus driver made it as though it were our fault for getting on the wrong bus, too.
But oddly, this still worked out just fine. Both of us were early anyway, and the bus driver said that there was a free shuttle that led from the south terminal to the proper north one, that circled back and forth several times each hour. We even downloaded an app called Ride Systems that showed the GPS location of the shuttles bustling around the Louis Armstrong airport.
Soon enough, we were both in the lobby of the right airport, and waved as we left our separate ways. I sat down near where I had seen the live band performing when I first came in, and pulled out my phone and laptop to join the team meeting. That was fun. After that was done, I still had a bit of time to kill, so I tried to find some food to eat. A lot of shops were closed though, so I had to settle for a repeat meal — a Veggie Pho from another MoPho at the airport for $15. Overpriced. I liked this sanitizing gadget on the toilet seats, too.
It sucked the covering in one side and spit out new covering from the other side, teehee. I had a window seat for my flight out of New Orleans and took a few pictures on the way out. One of a bunch of blue roofs that perplexed me, and two of the really long bridge that Jah drove me over back on the 13th. Geeeez that's a long bridge!
Also, after a 20-year wait, I finally learnt how Jumanji ends, since that was the movie I watched on the plane. I had watched about 3/4 of it on a school trip back in high school, when we went to some museum and the museum staff played it when we faced some technical delay. Once the technical issues were sorted out, the museum staff lied and said we'd finish it "later", but we obviously never did since it was a school trip with limited time.