The core of San Francisco was small, really small! Or rather, it felt really compact, like a very efficient city. There was a lot packed into a small area, with virtually no wasted space at all. A lot of the land had been redeveloped over time, as I gathered, and parts of it were even land that was reclaimed from the ocean.
My incoming plane ride from Los Angeles to San Francisco was on Nov 06 2021, and was a United Airlines flight. It was scheduled for departure from Los Angeles International Airport at 12:40 pm PDT and slated for arrival at San Francisco International Airport at 2:10 pm PDT.
My outgoing plane ride from San Francisco to New Orleans was on Nov 12 2021, and was a Frontier Airlines flight. It was scheduled for departure from San Francisco International Airport at 12:47 am PST, featured a layover in Denver from 4:35 am to 7:30 am MST, and slated for arrival at Louis Armstrong New Orleans International Airport at 11:10 am CST.
My main goals in San Francisco were to meet and have lunch and/or dinner with Danethor!
Day 10 – Saturday, Nov 06 2021
I had a window seat on this flight from LA to SF, and it was a comparatively short flight, so I recorded the entire flight, from takeoff to landing, much to the mirth of my seat companion at some point, who asked me if I was doing recon. I also recorded the United Airlines pre-flight safety instructions video, which was pretty funny.
After landing, I spent a bit of time figuring out the train and bus transit system, and bought a Clipper card, which I would top up with daily unlimited bus passes for nearly every day of my San Francisco stay. The bus passes excluded the trams that ran up and down several of the selected streets, but I never really figured out how or where to board and alight those properly anyway, plus they seemed more like a tourist novelty than a useful mode of transportation, so I wasn't really worried. It also covered most if not all of the train routes around the Bay area, which was REALLY nice, as like the other for-profit systems in other cities, the transportation network in San Francisco was splintered up into several different competing companies. Out of the cities I visited on the trip, San Fran had by far and away the best overall public transportation network. It felt like someone had started a Sim City or Cities: Skylines game and built the roads and infrastructure first before zoning the land into residential and commercial buildings.
It got fairly complex in places trying to figure out how to use a certain system though, and it also continued the trend of wielding draconian federal law threats too. Anyway, I took the BART line from the SF airport to Embarcadero, which was basically SF's downtown core, and cost $9.65 for a one way trip. I then took a bus west along California Street toward my Airbnb. Along the way we passed San Francisco's Chinatown, and I stopped there to have some lunch at a random restaurant I passed, which turned out to be called Café New Honolulu. It was a Chinese restaurant though, despite the name, and had a very pretty and well-organized menu:
Yummy. They can call it Prawn with Scrambled Egg, but that was Prawn Hor Fun! Everything together cost $16.15 after the wretched taxes and tips.
I then continued my way toward my Airbnb. This time I had rented a small hotel/hostel room through Airbnb, so I didn't bother obfuscating the location because it's not someone's personal home — I stayed in the Dorel Apartments, which was also along California Street, just further west from where I was. I very quickly learnt that San Francisco had a lot of uphill and downhill streets, in a way that I had never seen before, but that I loved looking at:
I loved the contrast between near and far that you could find by just staring down any downhill street. Compared to the chaos and the wealth disparity that was Los Angeles, San Francisco, or at least the parts of SF that I saw, felt much more organized, almost overly so in places. But where Los Angeles gave me a vague sense of panic and hopelessness and extreme wealth disparity in places, (downtown and northeastern) SF had the opposite effect — it gave me a sense of security and belonging and community, but also a vague fear that the city had hit its limit and that it was suffocating.
I made a comment near the end of my trip in Discord that while I loved SF's Chinatown, as it was bustling with tons of shops and restaurants all in close proximity to each other, and felt like a safe and closely-knit community, it also felt like a dead end, like there was no more room to expand in any direction or in any capacity. Everything in San Francisco was so tightly packed together, there were basically no such things as side streets or back alleys, and city garbage collection was done from bins in front of shops and houses rather than tucked away behind it, etc. This was similar to what I experienced later on in New York as well, but I didn't find it as acute there, perhaps because I had become accustomed to some of it by experiencing it in San Francisco first.
In addition, by virtue of being built on a hill, the buildings around the area of SF where I lived were built more like trapezoids than rectangles, which was very disconcerting at first, but also eventually had a certain cool factor to them. It felt like they were one minor disaster away from turning into a very major disaster though. I also heard that very few houses around the city had basements by virtue of how hard (expensive) it was to dig into the side of the mountain, and also something to do with the threat of earthquakes and floods. And that the minor crime rate was very high and basically every car owner had their car broken into at least once and people just learn to empty their car of valuables and sometimes leave the car unlocked so no one smashes the windows. Apocryphal? Maybe.
I also did see little garages set into the side of tiny apartments with the tiniest of driveways to back out into the sloping main road with, and felt my blood vessels popping in anxiety whenever I watched a car struggle to try to drive in or back out of one of those. That left an impact and drove in the point about how space was such a commodity over there.
Anyway, I stopped into a Trader Joe's on the way because I had never been into one, and admired how everything was so different from other grocery stores that I was used to. They even had an entire aisle of liquor. I eventually made my way over to the Dorel Apartments and checked into my room. This time, I took pictures immediately upon arrival.
The room was small, but actually quite comfortable. I had also more or less become comfortable with the idea of drinking tap water (this started in my previous Airbnb house in LA), but this room had a separate little sink out by the door away from the bathroom (which had no sink), and I really appreciated that as well, since it meant less contamination overall, or so I told myself anyway. The Smart TV was also put to great use here, the Los Angeles Airbnb had one but I never really used it, nor did I usually use it in hotels, but I did start playing with the one here and found out that I could temporarily add my Youtube account to it, and from there be able to play all my relaxing meditative or caiming ambient music collections or walking videos.
One thing I didn't like was the view though. Not only that it had no view whatsoever, although it was interesting getting to peer at what was on the "inside" a city block, but that I could see right into several of the other rooms from mine, and thus it was probably true the other way around as well. I promptly closed the blinds and never opened them again for the rest of my stay there.
I sat down and did a bit of work, then ran into a strange issue when I was about to leave my room to look for some dinner. My key fob was supposed to be able to lock the room door from the outside, but it wasn't working and I had no idea why. I texted the management who had no idea why too. I went downstairs to the shared kitchen and office in the basement to see if the staff member there had any idea, but there was no one there — they had gone for the night. While I only ever briefly met a couple of the other people (mostly students, it seemed) living in the apartment, I knew there were other people around and so I didn't want to just leave my door unlocked for hours while I was out exploring the city. But this would have meant that I wouldn't have been able to go anywhere until the next day when someone from the staff came by again — assuming they even came by to the apartments on Sunday. How was I going to get dinner?
Thankfully I found out what had happened — even though I had already checked in, there was a key fob box out front and I noticed that they had put in a second set of keys for my apartment — and the fob for this one worked to lock and unlock my room door. Apparently, after I had checked in and while I was still inside my room, one of the staff members had not realized that I was already inside and deactivated my fob, activating the new one and putting that new key in the key fob box. I don't know what this implied for security and cleanliness (did the previous occupant only just check out? Did it not raise a flag that the old set of keys was missing? What would have happened if I were out when this happened and came back to a locked room?) but I shrugged and ventured out again as it was quite late by then. Kynji had suggested a restaurant back down by the Embarcadero, so that's where I headed with my unlimited bus pass. Though not before taking pictures of the surrounding neighbourhood at night.
A couple of those were from when I returned from my excursion, but close enough. I went down to a restaurant called Osha Thai, which had this pretty altar and statue just inside the main entrance:
It was too upscale for me to eat there, but I did buy some Tofu and Veggie Green Curry for $19.71 and brought it back to my Airbnb room with me. Before I did though, I took a nice long walk around the deserted Embarcadero area, taking some pictures and then my Moonlight Walk (SF Edition) video.
I was actually quite surprised how few people there were out in the San Fran downtown core at night. There were a lot of quiet, picturesque, and probably a tad dangerous spots around to squirrel away in. Perhaps a product of it being so soon after the pandemic, or that it was raining a couple hours prior to that and there was still water pooled up on some of the umbrella-shaded tables and benches. It's not like nothing was going on either, I wandered by a theatre exit on the second floor of a building at some point as a couple well-dressed people wandered their way out of it. Besides the vague sense of danger, the promenade walkways were a joy to walk across at night though, it was super peaceful and deserted. Not quite liminal the whole way through, because cars were going by below the overhead bridges that I walked across, and there were a still few people that passed by on occasion, but it definitely felt that way in some places.
Once I had sated my wanderlust and exploring, I tried to catch a bus home, only to see one bus, then another, completely bypass the stop that I and a couple others were waiting at without stopping. That was frustrating. Apparently the buses were somehow full to capacity (or at least COVID capacity) and thus were not picking people up. I contemplated walking home, and actually did walk one bus stop while waiting because I could see when the next bus was coming on my Transit app I had downloaded way back in Las Vegas and used through Los Angeles too, in order to hedge my bets in case a few more buses were too full to stop. I had no idea where all these people were coming from though since I didn't see many people at all on my walk. At least the bus was scheduled to come every 7 minutes or so instead of every 15 or 30, but it was still nearly half an hour before a bus grudgingly stopped to let us on.
I got home without incident after that though, had dinner, and settled down for the night. The clocks were being rolled back that night for Daylight Savings Time, so I earned an extra hour of sleep in there somewhere.
Day 11 – Sunday, Nov 07 2021
I had reached out to Danethor on Discord a few days prior to coming down to San Francisco, since I knew he lived around the area, and I asked if he wanted to meet up. He was more than happy to! Sunday was our first designated meeting day, and I arranged to meet him just before lunch at a nearby park. But before that, I got up nice and early and took some pictures of the common areas of the Dorel Apartments.
Someone left a whooole pile of dishes in the communal sink. The problem with dorms and early University-age kids who grew up with dishwashers, right here.
I had an hour or so to kill before meeting Danethor, and I had seen a second-hand thrift store on the other end of our block the day before, so I wandered down there to have a look. The store was called Out of the Closet – Polk, and it had a ton of clothing on sale there. While I didn't end up buying any clothing, I did spend some time browsing through and admiring what they had, and eventually picked up some books for my home stash too. They were really cheap, I picked up this D&D book as well as an English-Chinese bilingual pictoral architecture book called European Elements in Qingdao City (local) (欧韵青岛), the latter because I like coffee table styled books, for a grand total of $3. They were both large but thin books, so they slid into my backpack just fine. I returned back to my room to offload those before heading out again and in the opposite direction to meet Dan. We met in this park: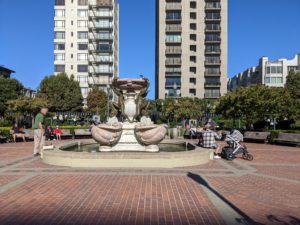 And then went to have brunch at a place called Mymy Coffee Shop, which he had heard good things about but had never gotten to try. There was a lineup outside the shop (and it stretched across someone's personal garage so we had to move aside at some point to let a middle-aged Chinese gentleman back his little car out of the garage), but we managed to skip part of the line by opting for an outdoor table instead. I ordered Salmon Rotolone Tartine for $20, and some juice, and it came to $31.34 after tax and tips. Dan ordered Corned Beef Hash and a bottle of sparkling cider.
The Salmon Rotolone Tartine was described as "Smoked Salmon, Neufchatel, Avocado, Chive, Scrambled Eggs, Lemon Dill Sauce, Pickled Red Onion, Aioli, Multigrain Bread". The food was expensive, and sounded exotic, but was honestly pretty great. I enjoyed this meal, though the company certainly helped. We chatted about a variety of topics through the day, and he regaled me with stories about his work and life here. We exchanged nostalgic memories about our time together in LotRO, and we decided to try something interesting — an escape room! He did some research on his phone and made a few calls, and found a location with a free private game in the afternoon!
We had a bit of time to kill before that started though, so once we were done eating, we walked down to the Embarcadero area and docks. We went to the main Ferry Building at the docks, where there was a small indoor flea market going on, and I bought a custom tote bag there as a gift to bring home to my family. We then walked out and looked at some of the nearby shops — I remember passing by an ice cream shop, a bakery, a cheese shop, wine shops, meat shops, and even a bookshop that we went into briefly. The little shopping area felt very chic without feeling too rich and upscale.
We then left the area and walked along the wharf, taking a look at some of the other piers. He told me that all the odd-numbered piers were on one side of the Ferry Building, and the even-numbered ones on the other side, and furthermore that several of them were not actual piers (anymore, at least) but had been converted into things like museums and attractions. We saw a huge ocean liner here and gawked about how that thing could possibly float out in the open water.
And then gawked at other people gawking at the open sea. SO many people without masks, but at least they were somewhat distanced.
We had a passerby take a picture of us, but a boatful of people photobombed us:
So we had to retake the picture lest we invoked the wrath of Tigey:
We also passed this pier, where there were sea lions basking in the sun for whatever reason.
Apparently this was just a thing that they did.
Moving further along, we came to a bunch of stalls in Fisherman's Wharf, and Dan decided to make me try clam chowder and sourdough bread. We sat on some stools by a walk-up roadside stall called Sabella & La Torre, which apparently also had an indoor restaurant area with a completely different menu that we passed on. I ordered, to Dan's delight, "Clam Chowder in Sourdough Bread Bowl". This cost $11.95 and was very weird and interesting. The chowder came in a bowl made of bread, and it indeed had a sort of sour taste that I had not experienced before. Dan told me that the area was actually quite famous for its sourdough bread, and that there was some sort of bakery or factory nearby that produced it for the stores in the area or something. I didn't finish the sourdough bowl, but I wasn't really sure if I was supposed to anyway. There were also a lot of brave, brave pigeons hanging out in the area hoping for leftovers.
We then took a long walk over to the escape room center that awaited us, in order to work off our full bellies. It was about half an hour away, so we alloted plenty of time for the walk. Thankfully it was mostly along level terrain though. The escape room, hosted by a company called EscapeSF, cost us about $60 each, and we locked our bags and jackets up in lockers at the front of the center, and were given the locker keys on telephone cord chains to bring along with us into the escape room.
Cameras weren't allowed in the escape room experience that we participated in, which was the Escape from Alcatraz escape room that was hosted. We both started with one hand cuffed to the wall of a tiny cell, and had to find the key to unlock ourselves from the cuffs and escape the cell, solve a puzzle using playing cards, fool a medical room lock by pretending to be someone's else through compiled patient records, and finally figure out a number to tap into a telephone and dial in order to escape. And we did escape! With about 44 seconds to spare on our 60 minute timer. We took congratulatory pictures after with Tigey.
We then parted ways, vowing to meet again for better or for ill in a day or two. In the meantime, I had another fun event planned that night. I had noticed and signed up for a tour on Airbnb called "Haunted SF Ghost Hunting and True Crime", and had booked a ticket for that evening for $49. I wasn't sure if many people would turn up for something like this — I had only one previous experience with trying to book something like this (not counting one that I joined on our university campus a couple years ago as that was for staff only), which was in Seoul, and it had been a complete flop where even the organizer didn't show up — but a ton of people did show up for this one! I acquired permission to record the event, and filmed pretty much the entire thing as we walked up and down the streets of Chinatown with our EMF readers and other tools. We didn't actually see any paranormal activity, and I wasn't expecting to, not because I don't believe in their existence but because I had Tigey in my bag, whom I believe is a charm that keeps me safe and keeps the yuurei away anyway. But I really enjoyed our tour guide's stories and really appreciated the tour from a historical point of view. Chinatown was quite pretty in the evening too. And maybe there was a ghost or two in the video that I missed seeing.
I couldn't decide on what to eat for dinner that evening though, as a lot of stores were closing or had closed by the time the tour ended, and I wasn't particularly hungry anyway after our meals earlier in the day. So I wandered back toward my apartment before finally settling on some takeout from a store one street away from it. The store was called Nara, and I asked them for recommendations on whatever they had left for the evening. They offered me some shokko nigiri and some chicken karaage, and I brought that back to the apartment.
It honestly wasn't very good, and cost way too much ($22 after tip) for its price. Oh well. As this was Sunday night, I did a bit of work for Monday and then went to bed.
Day 12 – Monday, Nov 08 2021
Monday morning saw me working on some tickets for work, and finishing at about lunchtime. I went to Japantown this time, because I was so impressed by Los Angeles' Japantown and wanted to see if San Fran's matched up. It did not, not by a long shot. It wasn't absolutely terrible though, but it was basically a couple small malls joined together with a mix of big stores (like Kinokuniya), smaller boutique stores, and the odd food store. It wasn't bad, but it wasn't large and eclectic the way that LA's was.
I had lunch in a shop called San Wang Restaurant, and the sole reason why was that I saw this:
And blinked. Yan Can Cook! I remember that show from TV in Singapore when I was a kid. It made the store stand out from the others, so I decided to enter and have lunch there. I had their assumed specialty, San Wang Soup Noodles, which was nice and spicy. It cost $17.33, so I made it $20 after the tip since I think that was the minimum value before they would let me use a credit card anyway.
I then explored a few of the stores around the area.  I found and bought a small keychain plushie for my sister from a store named Mai Do (which was a play on words for "maido", the Japanese word for maids), and then a cherry blossom mug for Dad from SF's Kinokuniya store, which changes colour (and basically shows cherry blossoms blooming) whenever a hot liquid is poured into the mug. I then walked around the area, snapping a few pictures of strange architecture:
Before heading back to my apartment. Although I could have caught a direct bus there, the bus wasn't due for about 15-20 minutes or so, so I ended up just walking back all the way to the apartment. San Francisco, at least in and around the neighbourhood that I lived at, was really walkable and felt a lot more safe in a way that Los Angeles wasn't even though there were a lot more uphill sections tro traverse. It did feel like it was designed as a walkable city. Not only in ways like there being more paths, more parks, and less homeless tents around, but also having shorter streets in general so you could change streets more easily, and also being a very well-organized and neat city..  it's hard to place into words, but I contend that the wind flowed better down the San Francisco streets than it did in Los Angeles and Las Vegas. It did have some odd intersections where I felt like there should have been traffic lights, but there weren't any, though.
I went back to the hotel to put down my items, and then hurried out again. I had something interesting planned that evening, a trip to Alcatraz through one of the cruise tours there, but the ship's departure point was all the way on the northern side of the SF docks and I didn't have that much time before I had to be there. I was still ahead of schedule at that point, but I was worried about the buses, as Google Maps was asking me to take a route running north-south that I had never seen before. And indeed, when I took an east-west bus to the transfer point and then went to look for the buses, I couldn't find it. The bus stop simply either wasn't there or didn't serve the bus that Google Maps thought was there. Perhaps a pandemic thing. I was still okay though, since I had factored in time for a delay as well. I just had to walk really quickly for a long distance, probably about 20 to 30 minutes or so, and ended up at the pier right about a minute after when we were told to arrive by.
I shouldn't have worried though. The cruise ship hadn't even started boarding yet, and there were many people that arrived after me — again, a sign of a polychronic society — I think I was even in, if not close to, the front half of the line of people waiting to board the ship in the end. It was my first time on a ship since Korea in 2017. I turned on my camera before we boarded and left it on all the way through the Alcatraz trip and until I alighted from the ship on the return trip and left the dock area, and I have attached the video below as a memoir of that journey.
It was interesting, but not overly so, definitely not something I would consider a must-visit, but still interesting to learn about the history and legends of the place. Part of the trip involved an audio tour, set up with little decontaminated radios in plastic bags due to the pandemic, and I tried to record some of the recorded audio on my camera too but I don't think that part came out really well. Otherwise, the journey was eventful, and Tigey and I arrived back at shore without any major international incidents. I took a few pictures, listed below, mostly of the ferry journey there and back, but left most of the chronicling to the video camera.
I had another MLP session at 7:30 pm that night though, a small group session that I was actually leading (I led all our group's biweekly discussion sessions), so I had less than half an hour to get home once we disembarked from the boat at about 7 pm. In order to make this meeting, I had to Uber back home, which cost $13.88. I ran the meeting until it ended at about 9pm, then came out again to try to find some dinner. It had rained during the meeting, and was still drizzling slightly when I timidly ventured outdoors again, so I just went around the corner to a Chinese restaurant that was open late. It was called Bamboo Restaurant, and I picked up another specialty name dish, their Bamboo's Combination Chow Fun, for $12.50.
It got mercilessly devoured, and I then went to start my work routine for the next day after a nice hot shower. I also finally solved a problem that had been plaguing me — my current mobile version of Discord had been crashing more or less whenever there were GIFs on screen in my current channel, and it had been really annoying me since I updated my phone to Android 12 while in Los Angeles. However, Trin gave me the brilliant idea of switching off GIF animations to see if that would fix the issue, and it did! My quality of life, an important metric on a long, tiring trip, went up several notches.
Day 13 – Tuesday, Nov 09 2021
I still had three full days left in San Francisco, but I had already seen a lot of the things that I wanted to see, and i had work to do, so I didn't bat an eye at spending a couple of the remaining mornings just working on work in order to offset the cost of the trip and so as not to spend any more vacation time than I had to. Still, I was always planning for things and looking for activities I could attend, and San Fran had various packages tourist with sets of attractions that people could sign up for for a discounted price when compared to individual admission costs, and I eventually registered for one of these — the San Francisco C3 CityPASS. I could pick three places to get admission to for $71, and I picked the Aquarium on the Bay, the Exploratorium, and the California Academy of Sciences. I had a hard time paying for it online, as it rejected my card for some reason, but after reaching out to customer support only to find out that they had no idea why it was rejected as well, I managed to pay for it using PayPal.
I then made plans to go down to the Embarcadero area yet again as two of the attractions were located there — the Aquarium on the Bay and the Exploratorium. I only ended up visiting the first one of the two on the day, though, as it was quite large and I wanted to do some wandering around the Chinatown shops and prepare for a certain event the next day. It rained this day again, and even though the rain had stopped by the time I left the building and went down to the Embarcadero, the docks were nearly deserted — a vast difference from the other days that I was down there and it was packed with people walking around and bicycle-drawn carts briskly travelling up and down the docks while carrying an assortment of weary tourists. There was barely anyone around outside, and I think this also translated into there being lesser people inside the aquarium, which probably was for the best. I bought my SF plushie, Stacey the Stingray, from here, although I had to apologize to another plushie in the box next to hers that I was awfully tempted by as well.
I was also rather tired, and actually almost nearly fell asleep at one point — while I was standing upright and walking around the Aquarium. I caught myself and then recovered from that, but due to that, I made sure that this was a "shorter" day and that I spent the evening cozying up in my apartment and getting ready for bed so that I could recharge up.
I then did my aforementioned wandering around Chinatown shops. I bought an Asian soup spoon and a red Chinese lucky cat, the former because I didn't have one at home and wanted one (I still use it today as my main soup spoon), and the latter because I originally wanted a small lucky trinket to give to my family in addition to all the other gifts I was giving them, but I eventually ended up giving it to Jah when I visited his home instead because he was so nice to me. I also took several pictures of the area, as always:
A lot of the shops were samey though, as they all bought from the same wholesale toy shop in Los Angeles. This phenomenon was not unique to this area of course, I saw the same thing in Las Vegas, Santa Monica, and New Orleans in the more touristy shops, and even back home in regular gift shops and carnival prize booths too. Everyone sources from the same places instead of looking for unique products.
Talking about sourcing from the same places, I seldom eat at the same location more than once when I am out travelling, as I try to aim for vendor variety, with exceptions sometimes made when I eat at a place and then later on decide to come back to buy something else from that place, usually as takeout, because I was curious to try a different dish from them. I seldom "get lazy" and go back to a shop just because I've been once there before and wanted something familiar. That Food Traveler's Handbook actually disagrees with this practice, and says that it's good to establish a rapport with the staff at a place you like, but I mostly disagree and prefer roaming far and wide, starting afresh each time.
But this Tuesday was one of the times where I bent the rules a little, as I went to a place called Penang Restaurant on the East side of Chinatown that served Singaporean/Malaysian food, and had a nice dish of Chicken Mee Siam there for lunch.
This.. was not Mee Siam, Mee Siam is a dish that comes in curry broth, however I liked it anyway, so I tipped them and gave them $20 even though it was a $16.84 meal, and told them I'd come back for dinner to try another dish, as I had noticed that they also had my #1 favourite dish, Hokkien Mee, on the menu. I kept the promise, swinging back their way after the Aquarium trip to pick up a takeout order of that Hokkien Mee (and again giving them a flat $20 for it).
This was unfortunately quite disappointing though. This was more like a regular bowl of western-style Shanghai Noodles than Hokkien Noodles, which is an entirely different dish. It's supposed to be stir-fried rice noodles. Anyway, that capped a rather quiet Tuesday, as I spent the rest of the evening doing laundry. It was $3 per washer and dryer load, but my first washer load at Dorel Apts was free in return for signing up for the PayRange app that they used to pay for the washer and dryer. There was next to no detergent left in the laundry room though (and I wasn't sure if it was complimentary in the first place), so I went out and looked at the prices at a couple nearby laundromats before deciding to go back again and wash it with minimal soap detergent from a near-empty bottle I found behind the laundry room door. I also got most of my next day's work done early, because..
Day 14 – Wednesday, Nov 10 2021
Through my stay in San Francisco, I had been looking for "good" Singapore cuisine sort of like I found at the Farmers Market in Los Angeles. I had eyed a place called Dabao Singapore, but their schedule didn't really line up with mine, they delivered to San Francisco on Fridays but I was only here from a Saturday to a Thursday, and on alternate Wednesdays they delivered to the Easy Bay and South Bay. On this Wednesday, it was South Bay, which was San Jose. But I didn't let that stop me. So, for my second last day in San Francisco, I took a day trip out to San Jose, south of the bay! The menu changes every now and then, and at the time I had ordered some Chwee Kueh and Kway Chap, for a total of $29, as per the menu below. I just had to grab it after it was done in the evening, and bring it home somehow.
San Jose is on the south side of the San Francisco Bay, whereas San Francisco is on the west and Oakland is on the east, more or less. The relevant part of how that factors into the story is that there are multiple train lines that go through the area, with BART going down the east side of San Francisco Bay and Caltrain going down the west side, so I took BART to San Jose and took the Caltrain back. Neither one needed an advance ticket or anything like that, I just had to show up before the train left.
Anyway, I left early that morning, full of anticipation for the journey ahead. the BART trains were weird, but sleek, and came with announcements proclaiming that this train was a "10 car, 2 door train" or an "8 car, 3 door train" and so on. I couldn't really fathom why that was important. My journey down the east side of the bay cost $8.15. I had to wait some time for my train though, and thoroughly enjoyed seeing the various other trains going by. I joked to Danethor when he came to pick me up in his car on Thursday that I was now entering his 1 car, 2 door train.
I then arrived in San Jose just before noon. My plan was to stop by some Buddhist temple I had seen, swing over to San Jose's Japantown nearby, make my way over to the Winchester Mystery House somehow, and then find my way down to the pickup place (which was some random house in a residential neighbourhood), and then back up to a Caltrain station to take me home. I caught the bus to the first stop, the temple, taking pictures of interesting things on the way like this row of bicycles, which I had never seen in any previous city (or at home, since we're a winter city).
I then arrived at the temple, the San Jose Buddhist Church Betsuin, hoping to make a few prayers for safety (even though I am not a Buddhist, my parents are and I respect the religion), but it was actually closed due to COVID-19, so I could only lurk outside suspiciously and take a handful of photographs of the lovely garden.
I then headed south and west looking for some lunch, as the temple was adjacent to Japantown. Unlike the Los Angeles one (which was bustling and had tons of shops across an entire neighbourhood) and the San Francisco one (which was much smaller, just a small cluster of shops across 3 malls), the San Jose Japantown was extremely disappointing from a shopping/public culture point of view, there were just a few scattered shops down one street and a museum down another side street. Still, there were apparently three Japantowns in the USA, all three in California, and I had visited all three within the past week, so that was something. I had lunch at a nice bar and restaurant called Kumako Ramen, opting for their Miso Ramen (extra spicy), which cost $18.96 after a 20% tip. Did I mention how distasteful I find North American tipping culture yet? Because I do. The food was average at best, though it was spicy, and the ambience was nice.
I then took a long, 5 mile walk clear across San Jose from the ramen shop toward Winchester Mystery House. This took me a full 1.5 hours or so to traverse, but it was a glorious day out, and I loved walking through a variety of residential neighbourhoods. I even cut through a hospital at one point, used the public washroom in there, and got very tempted by an ice cream truck parked next to it, but decided to press on. I was also on Discord and my email while walking, and found out just before reaching the Winchester Mystery House that the Steam Decks would be delayed another two months from their current projected launch date, all the way to around the end of February 2022. Right on my birthday, as I found out later. I took many pictures along the way, and some of the better ones are displayed here. San Jose felt very "open" and welcoming, which I really appreciated.
In the moment though, I reached the Winchester Mystery House. I had arrived at about 2:30 pm, and closing time was something like 5pm, but that was apparently too late for the full bonus extended tour that included some bonus rooms, due to some timing shenanigans and the next standard tour ending just after  the last bonus tour would have started. That or the ticket agent was just having a bad day and refused to compromise, as I suspected. Anyway, I bought a ticket for the next standard tour that visited most of the common/iconic rooms anyway, and joined a group of about 20 people or so and a friendly guide that took us around the mansion, showing us various odd pieces of architecture and telling us a number of stories about the (former) occupants of the place and ghost sightings. I didn't expect anything to happen though (again, Tigey), and indeed nothing untoward at all took place. The history and architecture was really interesting, and that was it.
There are already thousands of pictures of the House around the internet, so these are not particularly valuable, but I will add my pictures to humanity's stash anyway.
After the tour was over, I walked to Santana Row, a retail/shopping street that was right next to the Winchester House. This was not on my original itinerary until I saw it after the House tour, but it attracted me as dusk was falling and the place was set up very beautifully, sort of reminiscent of a chic European thoroughfare, I thought. I found and used a public washroom, then wandered around the area, taking pictures of people, including a woman trying to take a picture of her own dog, and seeing an Amazon Books store and Tesla store for the first time. I bypassed the latter, as cars were a bit of an issue to bring home in my backpack, but spent a couple minutes walking around the former. I also wanted to buy something from here to bring back to my stash of plushies, but couldn't find any store that actually sold nice plushies here, with the exception of another Mai Do store, similar to what I had seen in San Fran's Japantown. So I picked up a seahorse plushie from that, as well as a reusable bag that I hung on my sling bag and still use to this day.
I then sat down and had some ice cream in a roadside ice cream store named Smitten Ice Cream. I ordered the Brookies 'n Cream flavour, two scoops, for $7.25, and settled down at an outdoor table next to a quaint little sloped grass field where some toddlers were playing with soccer balls.
This was a great moment of relaxation, matching what I felt when I was in Calgary for the Calgary Stampede in 2021 and stopped by an ice cream shop on the way back to the bus depot. There's apparently something magical about fancy ice cream parlours and I should visit them more while on vacation. Other Santana Row pictures from the evening follow:
I then had to request an Uber. My battery pack was out of juice at this point, and my phone was below 20% battery and falling. Switching to power mode, I created a two location trip for the first time and found a driver for that. The trip consisted of a stop at the house at which I needed to pick up my food from — it was out on a table in front of the house, waiting for me in a paper bag — and then a drive to the Caltrain station. My driver was a mild anti-vaxxer, and talked about how he thought they were scams and were meant to profit the vaccine companies and government, but he also told me a number of stories about how he drove around the entire Bay area and loved his job because he occasionally got to save people in a pinch, and also because he could keep whatever hours he wanted to. He said once that he even drove a businessman who had missed his flight, from San Francisco to Los Angeles, and they had agreed to bypass the Uber app to make a separate payment for the gare, as Uber was going to take about 20% of the $500 trip or something as a commission. He quoted a price that would allow them to split the difference, so the businessman got to pay $50 less and the driver got $50 more than he would have gotten otherwise, and his passenger agreed. He then took a drive down there in the middle of the night with the businessman, spent the weekend there, and then drove back after.
Soon enough, I was at the Caltrain station, and bid him farewell. My Uber ride cost $34.77 after tipping, and the train ride back cost another $8.25 on the Clipper card. How nice, I thought, that both BART and Caltrain accepted the Clipper card.
The double-decker trains here were really neat. I refrained from taking any other pictures until I got home though, as my phone was below 10% at this point. Just from passive drain alone, it was 5% by the time I reached downtown San Francisco, and I still needed to take two buses to get home from the San Francisco Caltrain Station, which was an area of the city I was thoroughly unfamiliar with. I strongly considered using another Uber, but I do not like using Ubers when I do not have to, so I chanced taking the buses, since the first bus would drop me off on California Street, which I was very familiar with by then. I eventually got home with 1% battery life left!
Dinner was a bit messy — the Chwee Kueh were nice but a little mushy (as I left them for the next morning in my infinite wisdom), and the other dish required a bowl larger than the two boxes together, which I did not have in the room. I contemplated going downstairs to borrow a bowl from the kitchen, but decided that was a bad idea due to COVID-19 and the memory of the sink full of unwashed dishes, so I ended up having to microwave and consume the meal in two parts somewhat awkwardly. It probably wasn't really worth its cost, although it would have been better if I had a kitchen to prepare it in, and not have had to lug it around for a couple hours on public transportation in a flimsy paper bag.
As the next day was a public holiday in both the USA and Canada, I had no work to do that night, but had to get ready for checkout because my flight out from San Francisco was scheduled for just after midnight on Friday morning. This meant that I would be carrying my bags around me for about half the day. I had been travelled light, with just a large red backpack and a pink shoulder sling bag, but that was still a rather heavy burden to carry around with me. But I had made prior arrangements with Danethor to meet him for part of the day again since it was a holiday (although he still had to work for part of the day), so that would hopefully help alleviate some of the exhaustion.
Day 15 – Thursday, Nov 11 2021
After downing the rest of last night's food, I left my room for the second of my three attractions that I had booked through the CityPASS back on the 9th. This was the Exploratorium, which had been recommended by a couple of my Discord friends. It was basically a hands-on science center, with exhibit halls dedicated to things like optical illusions and gadgets that demonstrated various scientific principles. I had checked out of the hotel by now, so I dragged my things along with me on most of this trip, and the Exploratorium was really large, so I was really aching by the time I walked through most of the halls. There were also a LOT of people present today, including many, many unmasked kids, so I basically steered clear of people and decided not to touch any of the exhibitions. I took photographs of a couple though, including this one:
It apparently increments everytime you turn the lever, which reminded me of this anime thing. But anyway, on Nov 11 2021, the "Your Turn Counts" display in the Exploratorium was at 53,255,830 turns. There, a data point preserved on Google.
I also took a picture of this one:
This made me nostalgic of Singapore, as there are tons of mimosas, or forget-me-nots, all around the grassy fields of Singapore. And then there was this one, which caught my interest because I like big data and data analysis and data maps like this:
Obviously an old post though, who even uses Flickr anymore! Anyway, I walked around until it was time for lunch. Dan and I were meeting up in another Chinatown restaurant called Hong Kong Clay Pot Restaurant. I arrived in the area early, and browsed around at a bakery called Wong Lee Bakery near the restaurant that had some interesting looking buns and dumplings and other Asian pastries for sale, but ultimately did not give in and left the shop without buying anything. I went over to our chosen restaurant, which was up a narrow staircase and on the second level of a building, and sat down to wait for Danethor, who arrived very shortly after.
We tried a variety of odd food, with the idea that we'd just order a few interesting-sounding things and share the dishes. We got salt and pepper quail, frog/lamb clay pot, and some salt and pepper cod. It was okay, and filling, but rather dry. We did finish up all of it though, and then split the bill — it came out to $31.70 each, after tax and tip.
Seeing hand sanitizer in the condiments tray like that made me wonder what the staff were thinking, though. After paying, we then parted ways as Dan had to go back to work, although he said that he'd come pick me up again in the evening to hang out before I left on the next leg of my journey. For the moment, I walked around for a bit, trying to ignore a certain monstrous home invasion that I witnessed in progress:
And made my way over toward the third attraction in the CityPASS set that I had paid for, the California Academy of Sciences. I arrived somewhat late again, so not all the exhibits were allowing admission any longer, and in particular I wasn't able to visit the Planetarium like I had hoped. But that was okay. I walked around a rainforest and fish exhibit for a bit:
I don't know why those jellyfish photos turned out purple when I view them in Firefox or Chrome — if you see the "water" as purple, that's wrong, it's actually blue, and if you download the picture you'll see it as blue as well. Anyway, I then found a photo exhibit with several photos that I really enjoyed, although I only took pictures of a couple of them that struck me the hardest:
But there were a few other great ones. The entire museum was shutting down by then, so I basically got kicked out, and wandered by a park on the way to a bus stop.
I waited at the bus stop for a very frustrating 30-40 minutes or so for a bus that would take me northwards up Park Presidio Boulevard, a northern road leading away from the museum area that would have eventually linked up with the Golden Gate bridge. I wasn't actually headed to the bridge though, I was trying to reach an odd landmark I had seen on the map, The Wave Organ, which apparently was a rock outcropping that contained a sculpture of organ pipes which gets activated by the water and makes melodies during high tide.
High tide was around 3:54 pm that day, apparently, and though I had left the Museum at around 5 pm, I figured I'd still get to see and maybe hear it a bit if I could get there quickly enough. The road was packed with an immense traffic jam though, and I waited for a long time with someone else with no sign of the bus coming. I think the bus that was supposed to serve that road avoided it altogether during the heinous rush hour that we saw. The other guy eventually gave up waiting and decided that he would walk north along the road toward whatever his final destination might be. For me, I crossed the road to another bus stop and took a bus east, ending up at the San Francisco City Hall, which looked gorgeous at night:
And then north to a street just before the Wave Organ. I crossed a traffic light and walked down a lonely little path, past a yacht club where expensive looking cars occasionally pulled up and I could hear rich diners inside socializing and celebrating. I also passed a shipyard with moored ships and yachts, and I felt like a Grand Theft Auto game protagonist as I passed a couple mildly shady-looking guys and walked all the way up to the Wave Organ point, over three hours after high tide, with the path leading there nearly shrouded in pitch darkness in some stretches along the way. More on principle than expecting to hear anything at this point — and I was right, it was dead silent by the time I reached there. Still, I shot a video of the walk there and back, and took a couple pictures of the San Francisco cityline from there as well.
That wasn't sketchy at all, nope, nosiree. I definitely didn't feel a bit nervous passing a couple of vaguely shady-looking people on the way up to that dead end.
Anyway, I retraced my steps after that, walked a couple streets south past some well-lit houses with tiny little gardens and motion-activated lights that turned on as I walked by on the footpath. I took another bus back downtown, a bus run by the Golden Gate Transit company. This was the one and only time I took a bus from them, as I didn't make any other trips up near the Golden Gate Bridge
I then was picked up by Dan in his car, and we drove over to a busy ice cream stall called Mitchell's Ice Cream. I was surprised to see a whole bunch of people waiting outside at this time of the night, basically right at 9pm. We had to circle the place to even find a temporary parking spot. We got in line and made our orders too — I went for exotic flavours and ordered Lucuma (a Peruvian fruit) and Macapuno (sweet coconut) in an ice cream cup. It cost $7.
And it tasted great! Dan ordered some as well, and we went back to the car to finish the ice cream. Dan then drove me back to his house, which he shared with a couple other people, and regaled me with several really interesting tales about the house and the current and former occupants. They were shared in confidence though, so I cannot retell them, though he noted that there are at least a couple of Youtube videos online that were filmed inside the house by the former owner. I did take some pictures of the place, too.
Dan then sat down at the piano and played me his rendition of DJ Okawari's Flower Dance, a song that he and I had bonded over in the past:
And we chatted for nearly an hour before he drove me to the San Francisco International Airport and dropped me off there. And with that, the San Francisco leg of my trip was over!