Kami Watch Over Me Series - Table of Contents
| Entry | Notable Places/Events | Start of Day | End of Day |
| --- | --- | --- | --- |
| Day 0 – Thursday, Oct 20 2022 to Friday, Oct 21 2022 | Flight from Edmonton to Tokyo | Edmonton | Tokyo |
| Day 1 – Saturday, Oct 22 2022 | Saitama, Ikebukuro | Tokyo | Tokyo |
| Day 2 – Sunday, Oct 23 2022 | Autumn Reitaisai 9, Shinjuku | Tokyo | Tokyo |
| Day 3 – Monday, Oct 24 2022 | Akihabara | Tokyo | Tokyo |
| Day 4 – Tuesday, Oct 25 2022 | Hakone | Tokyo | Hakone |
| Day 5 – Wednesday, Oct 26 2022 | Kamakura, Enoshima Shrine | Hakone | Kamakura |
| Day 6 – Thursday, Oct 27 2022 | Hanno | Kamakura | Hanno |
| Day 7 – Friday, Oct 28 2022 | Shinkoiwa | Hanno | Tokyo |
| Day 8 – Saturday, Oct 29 2022 | Akihabara, Matsudo City | Tokyo | Tokyo |
| Day 9 – Sunday, Oct 30 2022 | M3-50, Moto-Yawata | Tokyo | Tokyo |
| Day 10 – Monday, Oct 31 2022 | Akasaka, Shimo-Kitazawa, Shibuya Halloween | Tokyo | Tokyo |
| Day 11 – Tuesday, Nov 01 2022 | Shinjuku, Sophia University | Tokyo | Tokyo |
| Day 12 – Wednesday, Nov 02 2022 | Sophia University, Kabukicho | Tokyo | Tokyo |
| Day 13 – Thursday, Nov 03 2022 | Shinjuku Loft | Tokyo | Tokyo |
| Day 14 – Friday, Nov 04 2022 | Shinjuku, Hanazono/Asakusa Tori no Ichi, Sensoji | Tokyo | Tokyo |
| Day 15 – Saturday, Nov 05 2022 | Nagano, Zenkoji | Tokyo | Nagano |
| Day 16 – Sunday, Nov 06 2022 | Ueda Sanada Festival, Ueda City, Sanada Shrine | Nagano | Nagano |
| Day 17 – Monday, Nov 07 2022 | Zenkoji, Kyoto, Nakagyo Ward | Nagano | Kyoto |
| Day 18 – Tuesday, Nov 08 2022 | Otsu, Omi Jingu | Kyoto | Kyoto |
| Day 19 – Wednesday, Nov 09 2022 | Fushimi Inari, Kashoji, Tofukuji, Shorinji | Kyoto | Kyoto |
| Day 20 – Thursday, Nov 10 2022 | Ohara, Sanzenin, Arashiyama | Kyoto | Kyoto |
| Day 21 – Friday, Nov 11 2022 | Kiyomizu, Ryozen Kannon, Yasaka Shrine | Kyoto | Kyoto |
| Day 22 – Saturday, Nov 12 2022 | Heian Raku Ichi Market, Osaka, Juso | Kyoto | Osaka |
| Day 23 – Sunday, Nov 13 2022 | Sukunahikona Shrine, Namba | Osaka | Osaka |
| Day 24 – Monday, Nov 14 2022 | Kobe (with Ran) | Osaka | Osaka |
| Day 25 – Tuesday, Nov 15 2022 | Maibara, Toyosato, Nagoya | Osaka | Nagoya |
| Day 26 – Wednesday, Nov 16 2022 | Osu, Banshoji, Naka | Nagoya | Nagoya |
| Day 27 – Thursday, Nov 17 2022 | Obara Shikizakura Festival, Rurikozanyakushi | Nagoya | Nagoya |
| Day 28 – Friday, Nov 18 2022 | Okayama, Kurashiki | Nagoya | Kurashiki |
| Day 29 – Saturday, Nov 19 2022 | Kyoto (with Xuanjie), Autumn Okayama Momotaro Festival | Kurashiki | Kurashiki |
| Day 30 – Sunday, Nov 20 2022 | Okayama, Sunrise Izumo | Kurashiki | Sunrise Izumo |
| Day 31 – Monday, Nov 21 2022 | Minowa, Enoshima Shrine, Ameyoko Market | Sunrise Izumo | Tokyo |
| Day 32 – Tuesday, Nov 22 2022 | Shibuya, Taito City | Tokyo | Tokyo |
| Day 33 – Wednesday, Nov 23 2022 | Akihabara | Tokyo | Tokyo |
| Day 34 – Thursday, Nov 24 2022 | Shinjuku (with Yaoxiang), Harajuku | Tokyo | Tokyo |
| Day 35 – Friday, Nov 25 2022 | Sensoji, Narita Airport, Flight from Tokyo to Edmonton | Tokyo | Edmonton |
| Final Thoughts | Final Thoughts | | |
Thursday, Oct 27 2022 (Day 6)
To Hanno
This day started off bright and early with breakfast scheduled for 8am in the Kakiya Ryokan affiliated restaurant across the road. I noticed that they had a bunch of autographs hung up on the wall, though I had no idea who any of them were (although one of them prominently said AKB48 on it, so).
Breakfast was a teishoku (set meal), no buffet this time, but it was still good, especially the miso soup, although I wish the Japanese used/gave out spoons more often. Spoon + chopsticks is the way to go, not just chopsticks even when there's a rice bowl and a soup bowl, and this isn't a culture thing, it's a COVID sanitation common sense thing. There was no spoon to be found here (though I didn't specifically ask for one).
After breakfast, I walked to the nearby Koshigoe Station, noting with amusement this sign along the way:
Koshigoe Station, like a couple of the stations along the line, was a one-track station, and was right up against people's houses and backyards.
I guess reading further up on the railway, the entire thing is considered to be a one-track railroad, with five of the fifteen stations being equipped with passing loops or whatever. That's a weird way of saying "five of the fifteen stations are double track" though. Enoshima had two separate platforms for the trains going two different directions. That's no longer a passing loop even if it was single rail before and after.
Anyway, apparently the street that my ryokan was on, between Koshigoe and Enoshima, was also the only segment of the rail that actually goes down the middle of the street, and it's one of a very few occurrances of this in the entire country, so that was cool. I didn't realize that it was that unique of a location.
The ticket cost here was 220 yen from Koshigoe Station to Fujisawa Station (6 stops), which was the same cost from Fujisawa Station to Enoshima Station the prior day (5 stops). I had also taken the train 2 stops from Kamakura Kokomae Station to Enoshima Station the previous day, and that had cost 200 yen. Mystifying formula. But I ended up at Fujisawa Station, and waited for the train to Yokohama Station, which was 3 stops and 418 yen away along the Tokaido line.
Yokohama Station was fairly large and served quite a lot of different train lines, so it took me a while to find where to go to transfer to the line that I was trying to get to, the Tokyu/Minatomirai line.
It involved going down a long tunnel. Once I arrived at the correct platform, the train system also baffled me.
That platform I was on served all the northbound trains from Yokohama Station, which on the right hand side map above sits on the border between the blue and red lines. My target was Hanno Station, which was at the bottom of the left orange line. But the electronic train ticker only showed the next two trains at a time, and every train was basically going to a different place — down the blue line, down the orange line, stopping at the end of the brown line, etc, and they didn't always stop at the end of the line either, sometimes they stopped at the start of the line or seemingly some random hub station in between.
In addition, they were a dizzying mix of express and limited express and local trains that might or might not decide to stop on any given stop, and in addition the name of the route itself changed after every coloured segment, so I wasn't quite sure if the name of the train coming was the name of the first segment, final segment, or what. There were occasional English translations, but not many, but really the main problem was that the signboard did not list more trains. Even Hyperdia, the train route planner website, completely failed to make sense of this situation as it kept insisting that I should wait for a Hanno-bound train in 7 minutes that never came.
In the end, I noticed that one of the trains was an express train to Kotesashi Station, which was the first station down that orange curve that would lead to Hanno Station, and where express here basically meant that it stopped about once every 3 stops. I reasoned that this train would get me close enough, and there surely would be local trains from there going to Hanno Station since it was just a few stops away.
And I was right — once I reached Kotesashi Station, the train on the other side of the platform was literally a Hanno-bound local train waiting for the passengers from our train to cross the platform and get on it, which several people, including me, did. The doors then closed and the local train took off along its merry way. Fastest transfer ever!
This rail segment was such a local line that there were no train station announcements (Next station is X, the doors will open on the left/right) and no electronic tickers in the train either. Some of the stations along the way looked to literally be just a long slab of concrete.
The train quickly reached Hanno Station though, and this was a proper, if small, station. I picked up a couple gift items at the Tomony shop here and realized later on that evening that they had mischarged me — I bought two items but was only charged for one. Oh well!
I also started to see signs of why I had come here though, for a mini Yama no Susume pilgrimage! The show's fourth season was currently airing and I was hoping to find some cool tie-ins or something and a memorial stamp.
Paddock Pass
But first, I had to get to my lodgings for the night. While all my previous accommodation bookings had been done on booking.com, I had done this one through Airbnb instead, and had found this relatively cheap room near the middle of town, which was advertised as a guesthouse behind a small restaurant/bar called Paddock Pass. It was about a five minute walk away from Hanno Station, which gave me time to appreciate how quiet and lovely the town was.
I soon reached the bar, and the cat owner came out to greet me.
The cat, whose name was Ame (sweets in English), showed me to my room, which was located a couple of twists and turns away in a separate building just behind the bar where the owner also lived.
Ame then sat down on my lap as she explained the rules of the place, showed me where everything was, and fussed over Tigey.
She couldn't really speak English and I couldn't really speak Cat but we more or less communicated using Google Translate when absolutely necessary. The owner was super nice and accommodating at all times and had even let me come here early to check in when she heard that I was already in the area.
The room itself was a bit weird — it not only lacked a bed but also any mattress/bedding whatsoever, however there was that low sofa set that Ame was busy demonstrating in a couple of the above pictures that was probably meant to be slept on. It did come with a couple blankets and a pillow as well.
However, it also had this thing:
A heated floor carpet machine thing, with another carpet overlaid on top of it. I ended up spending my night seated on the edge of the carpet, with my back inclined against the base of the sofa set and one of the blankets behind me in a lump to provide support for my head, and with my legs under the table (once I pulled it closer to the edge of the carpet). I then had the other blanket on top of me, and this way, with the heated carpet beneath me, I was extremely toasty through the night even though the room wasn't heated very well.
The bathroom and toilet was another interesting feature of this place. I had seen mention of it on other Airbnb reviews, but it's actually an external room that I had to step out of the main guestroom, through the side balcony door, to reach. This area was fenced off so I think it was a private washroom (there were other guestrooms too and I assume they had their own arrangements somehow). It was a surprisingly fancy washroom for being basically tucked away under a staircase, even though I had to duck to not hit my head while passing through the door.
Very fancy, except the toilet didn't have a bidet. It did have a warm seat though. But Hanno was fairly cold at night this time of year, with temperatures dipping down below 10 Celsius, so I took a shower and brushed my teeth right after coming home, at around 8pm or so, and then never came back to it until the morning.
But for the moment, I left my things in the care of the cat and went out again, snapping more pictures of the city along the way.
Yama no Susume pilgrimage
Yama no Susume is a mountain-climibing Slice of Life/Cute Girls Doing Cute Things/Iyashikei-style anime, where the main characters hail from Hanno and go to school and work part-time jobs and visit places in between getting ready to climb various hills and mountains around Japan. It's a popular show to do pilgrimages for because a lot of the sites, including their home town, are based on real life locations, and a lot of the pilgrimages actually focus on climbing the same hills that the girls did.
I really didn't care for that though, my goal was to check out the town locations and find the alleged pilgrimage guestbooks to sign and maybe score some merchandise along the way, so that was what I was aiming for. I largely consulted this post, though it was written in 2018, pre-pandemic, and made my own haywire route through the city.
I hadn't eaten lunch yet, so my first order of business was to go down to a fancily paved shopping street that featured prominently in the anime, Hannō Ginza Shōtengai, and which according to the referenced blog used to have several life-sized images of the characters standing outside certain shops, as well as the odd special merchandise in them. I reached the place at 2:10 pm or so.
But this was no longer the case, by and large there were a couple small banners and posters hung up here and there (amidst banners and posters for other things) but there was little to no fanfare at all. The recommended Chojuan soba shop from the other post was closed as well (I think just because it was Thursday, but I didn't confirm this). I did see a cute Honoka character stand outside an art shop, but that was it.
I stopped by the bakery where the main character worked, Yumesaika Suzuki, and sure enough inside there were a couple character stands and items that formed a little shrine that the staff were happy to let me take photographs of:
But still, this was small, and they had nothing special on sale here in terms of character show tie-ins, despite the show being currently airing. Still, as I had not had lunch yes, I bought a couple things from them, a marron pie for 400 yen and a mini baum kuchen for 200 yen, and both were delicious.
Next, I headed for the Hanno Central Community Center mentioned in the blog post. That wasn't too far away and I reached it at around 2:50 pm, after passing by and taking more pictures of random roads and architectures along the way. A couple people stopped me along the way because I was walking so languidly and must have been looking a bit lost, with an old woman asking me if I was daijoubu and a man on a passing bicycle slowing down to ask me "(something something) desu yo ne", gesturing up at something, and then adding "maru hiro" or something before cycling off. I was mystified and still have absolutely no idea what he said, but the second photograph in the next gallery down below should roughly contain what he was pointing at.
The lobby of the community center was pretty small and I walked around a bit before heading over to where the Yama no Susume pilgrimage guestbooks were. They were still there, but nothing else to do with the show (except a couple posters I had seen a dozen times already) were there.
I signed the guestbook (with a Tigey was here!) and did a rough scan and image capture archive of all the pages of the book, which I will post separately at some point once I get back home. Despite the lack of tie-ins or merchandise, this was what I was actually after as a (budding) historian/archivist, so I was happy about that.
My next stop after this was going to be the Anime Tourism 88 spots memorial stamp, as there was supposed to be a stamp for Hanno commemorating Yama no Susume. An actual official stamp this time, not whatever the heck the one I got on Day 1 in AniTamaSai was. I followed the map on the English version of the 88 spots website, located right here (local), taking more pictures as I went as the sun was beginning to wane at this point and the sky and city looked gorgeous. This walk took me from about 3:15 pm to 3:55 pm or so.
By this point I was at the location marked by the map above, but… there was nothing here? A hairdresser, a car mechanic, an unmanned vegetable stand, and the start of a hiking road leading up to some hill or other. I figured out, after a bit, that the Anime Tourism 88 website is just REALLY idiotic, and their English translation garbled the address so badly that it spit out a completely different location (one that Google Maps could not even verify) and thus had literally sent me into the middle of nowhere for nothing (except a lot of nice pictures).
When I switched to the Japanese version of the page, I found the ACTUAL address and location of the memorial stamp from the Japanese version of the site (local):
And this time,  the address was given in a format that Google Maps did recognize. However, that was yet another half hour away for me. I did enjoy the walk here though, so I shrugged and set out on this walk too, which took me from about 3:55 pm to about 4:35 pm.
My legs were killing me at this point but I had another stop to go, the convenience store/shrine that was supposed to be back near Central Park that the referenced blog post talks about. I had figured that I'd leave it for last because, well, it was a convenience store and they were open really late, right? I had already passed Central Park twice at this point in my attempts to find this memorial stamp, but had not seen this alleged Time's Mart store. What I did not know at the time was that the Time's Mart convenience store had closed down two years or so ago, perhaps around March 2020 or so, according to reviews on its hidden Google Maps page here.
It's just as well I didn't, because after circling the park and not finding it, and darkness having cast a pall over the land by then, I would probably have just gave up and gone home. Instead, I tried searching for it again on Google Maps, as I had noticed a shop with practically the same name (in Japanese) located back halfway across the city, at the other end of the shopping street from where I had visited the bakery earlier on in the day. I had ignored it at first, because it didn't fit the location description of the store in the blog post, but I now decided to check it out anyway as that was probably a good location to look for dinner as well. I winded my way one last time back through the city, noting with interest that the shopping street was mostly deserted this late in the evening but a loudspeaker was playing calming instrumental music to entertain the people walking through the street. It was about 5:45 pm by the time I finally reached this place.
But lo and behold! The deserted shopping street opened up into a crossroads with more modern-looking, glitzier shops lining the street, and then I found the shop in question just off to the right of the exit from the shopping street.
This was definitely the right place! I went in, asked for permission to take photographs, and took a bunch.
This was a de-facto shrine to Yama no Susume, with the items on display practically taking up 3/4 of all the available shop space. He had soft ice cream and drinks on sale, and a couple keychains and an illustration book or two, but that was about all, everything else was not for sale. Despite our language barrier, I chatted to the owner of the shop, Mr. Takeda, for a little bit, and he said that the shop was closing at 6pm. It was 5:55 pm. Oops. I bought a Kaede keychain anyway and prepared to leave, but he went back behind his counter and rummaged a little, coming up with a couple character postcards of the two main characters that he gave to me — for free!
But I was equipped for just this moment. I reached into my bag and pulled out one of *my* Canada postcards, specifically the one with the map of the country (that I had bought four copies of), and pointed out to him where I was from. He seemed super pleased with this. I told him I'd be back tomorrow to look at the guestbooks and he said I was free to do so now and to not worry about the time. He was insistent so I did so, sitting down and (after asking for permission to take photos) using my scanning application to completely capture all four booklets that I could see on the table. From how they were labelled, I believe there were many more booklets though, but even those four took 45 minutes to do and I didn't want to take advantage of his kindness and occupy him any longer, plus if there were other booklets they'd probably have been in storage somewhere and require him to pull them out for me, so this was enough. My phone was heartily complaining and rapidly losing battery life as well.
Many of the art pieces were beautiful though, and I was super happy that I was able to capture and catalog/archive the contents of those four books while I was there. That actually accomplished my main goal for the day and I left there very happy even though I had hit so many dead ends that day. I ended up with around 500 scans across the 6 booklets to process once I get home.
For the moment, I went to grab dinner, which was Yamitsuki Donburi and Fried Gyoza at a nearby store called Gyouza no Manshuu. For 880 yen, it was pretty great, especially since it was piping hot, in contrast to the temperature outside, which was rapidly dropping. I finished my dinner and scurried on home for the evening.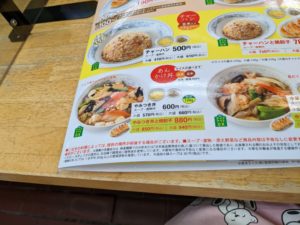 My loot for the day looked like this:
With the bottom sheet being a Season 4 brochure from the tourist shop at Hanno Station. Funnily enough, it contained a picture inside of the file that I had bought at AniTamaSai few days prior as well.